The Italians always know how to please, and by the time New York has set the tone with the street-smart and easy-on-the-eyes and London has injected its unique sense of quirk, the Milan shows are always a powerhouse explosion of savvy ideas and grand visions.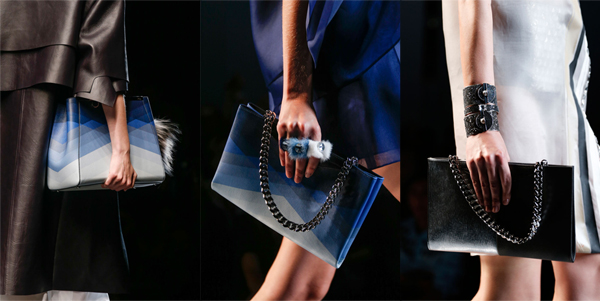 Fendi could not have shown a more delightful collection. Karl Lagerfeld set layers of frothy chiffon, some with origami-perfect folds and others that looked good enough to eat, down the runway, coupling them with beautifully structured bags, some topped with chains and dollops of fur, for an inspired juxtaposition (and injected with a bit of cheeky Italian humor, via the Fendi furbies and a jewel collaboration with Delfina Delletrez). With magical plays on geometry and sheer color in spades, it's a multi-dimensional collection in every way. Fendi bags are either really, really spectacular, or fall towards the other end of the spectrum. Thankfully for bag lovers, Spring 2014 will be a huge treat.
Over at Prada, the always-ingeniously insightful Miuccia managed to steal the show yet again. Underwear as outerwear?! Why not! With an emphasis on high art and bold primary color and feminism at its gutsiest as the inspiration, I am completely obsessed with Prada's Spring 2014 collection. From the heavily embellished bra decorations to the sporty ribbed stripes to all the dazzling chunky-jewel details, the ready-to-wear and bags alike made for a supremely executed collection, the likes of which only Miuccia can pull off with finesse.
In true Gucci fashion, the house took Spring as an opportunity to give a nod to the swingy, freewheeling, and glammed-up seventies. Art Deco patterns, gleaming luxe textures, sheer bras, and plenty of bohemian flow are sure to satisfy Gucci fanatics. While the bag collection – think simplistic exotic clutches and suede shoulder styles doused with flying fringe – isn't as strong as those at Prada and Fendi, there's still plenty of glitz and glamour to go around.
This post is also available in: Chinese (Simplified) Chinese (Traditional)