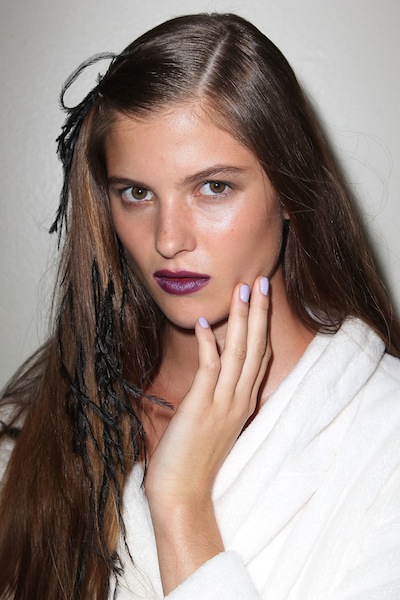 The silhouettes may have been taken in this season, but Marchesa was as Cinderella-like as ever. The clothes were inspired by a Victorian-style curiosity case, which tied into the beauty look. The focus was on the lip, as was the case at many of the major shows this season. Gucci Westman went in a goth-inspired direction via a violet lip. This definitely isn't your run-of-the-mill goth! It was ethereal and wearable thanks to luminous skin (achieved with Revlon PhotoReady BB Cream Skin Perfector, Nearly Naked Powder in all shades, PhotoReady Skinlights Face Illuminator in Bare Light – out in January, PhotoReady Cream Blush in Flushed), and a subtle brown eye.
The lip was created with a mix of Revlon ColorStay Lip Liner in Plum, Super Lustrous Lipstick in Va Va Violet, Just Bitten Kissable Balm Stain in Adore, and the PhotoReady Eye Palette in Muse from The Evening Opulence Collection by Gucci Westman (the purple shade was patted lightly onto lips for a matte finish). The key to this look was that there were no distractions from the bold lip. I love that Westman stayed away from a hackneyed Gothic smokey eye and went with something edgy, but un-intimating.
What do you think about this look? Would you wear it?
On a side note, for anyone wondering what the nail color is, it's Revlon Nail Enamel in Darling.