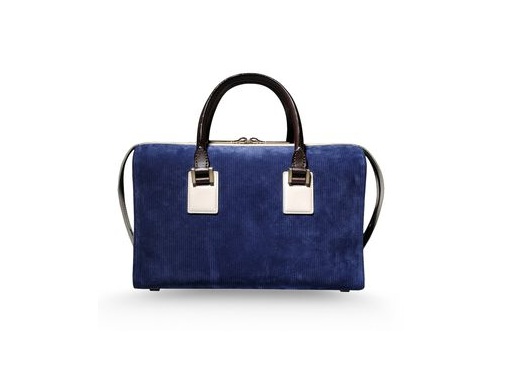 If you ask me, sometimes the most sumptuous bags are the simplest. After all, why reinvent the wheel when you can just showcase great quality and true luxury? Victoria Beckham knows a thing or two about both. Yes, this is technically a boring doctor's bag, but you have to admit: laser-cut and sueded leather is pretty amazing. And it's undeniably gorgeous in rich deep blue.
Once you get over the lush, plush texture, you notice this isn't your ordinary duffel. The squared-off corners offer more polish than the average, and the details are what really cement the appeal – a contrasting tab as the handle attachment proves white and dark brown make a great a color combination. It takes someone who really knows what they're doing to get something this simple to be so exciting. Another victory for Victoria. On The Corner for $2,170.
Pair with: Take basic blue into shocking territory with a must-have coat of the season: Carven's oversized brushed-felt coat in cotton-candy pink. On NET-A-PORTER for $2,390.