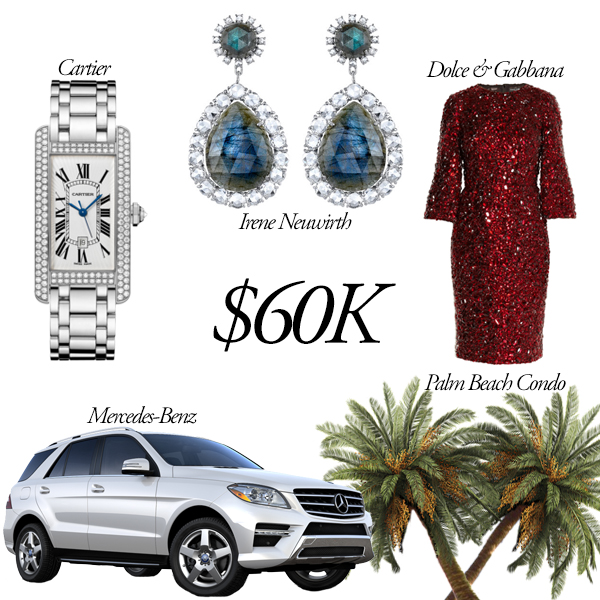 $60,000 can look like many different things – a car, a home, even a dress (nope, not joking). I thought I would explore just how varied the choices are, and trust me, even the savviest shoppers will be surprised. How we choose to spend our money depends on our preferences and priorities, which leads to my question – what would you buy if you had $60,000 to spare?
Dolce & Gabbana Crystal-Embellished Tulle Dress:
I wasn't sure if this was supposed to be $59,600 or $5,960. I'm hoping it's a typo, though I doubt it. Only six of these were made, so you're getting something very exclusive. The crystals (honestly, does this dress weigh 59 pounds, too?) are meant to look like lava, but the only thing burning here is your money. On NET-A-PORTER for $59,600.
Mercedes-Benz ML550 SUV: Yes, the dress costs as much as a car – a very safe and nice car at that! If you're sound of mind, you'll probably choose the Benz over the Dolce. At Mercedes Benz for $59,450.
Cartier Tank Américaine: Then again, a watch is a nice investment, especially a diamond-encrusted Cartier. Plus, it's only 57k – you'll have 3 grand left for a Givenchy bag. At Cartier for $57,000.
Two-Bedroom Condo in West Palm Beach: No, it's not fancy, but it's a home (with a garden view!). Available for $59,900.
Irene Neuwirth Labradorite & Diamond Drop Earrings:
To round out the group, we have the most expensive item on the list – diamond earrings! While these may not be the most practical of the options, you've got to admit they're hard to resist. Exclusively at Barneys New York for $60,360.