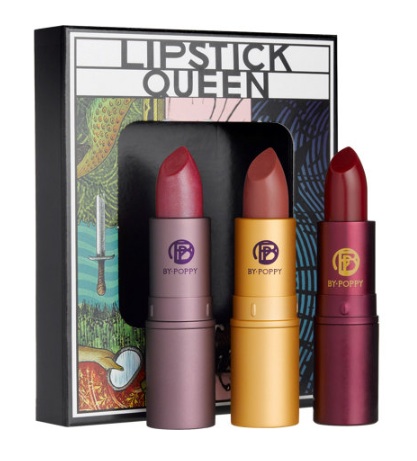 A few days ago Barneys New York had a breakfast to celebrate their new beauty floor. They've added a whopping 1,000 square feet to their NYC beauty space and 8,000 in Beverly Hills. To mark the occasion the retailer invited a bunch of industry heavyweights for a panel discussion. It was hard to not be distracted by Valery Joseph's Israeli accent and affable demeanor, and equally difficult to ignore Greg Lauren's…umm…beauty! But I found myself fascinated by the absolutely adorable Lipstick Queen, Poppy King.
King must be the only beauty heavyweight who has been in the business for years – with great success – yet still only makes ONE product. She loves lipstick and she's sticking to it! Better yet she doesn't really mess with her formulation. She has something great and she knows it and the fact that she doesn't fall into the marketing trap of always offering up something different has earned her great respect.
I'm not much of a lipstick-wearer, but her formulas really are great. They're non-drying and even though some of her colors are bold (this is one of her most popular shades
), they're usually balanced out by their level of saturation. If berry tones look good on your skin I urge you to try Hello Sailor. She's also got a few gift sets
at Barneys at the moment where you get three lipsticks for the price of two. Check them out! The new Barneys space also has a great lighting – both on counters and shelves, and lots of extra seating so you can easily see and try on products before you buy.