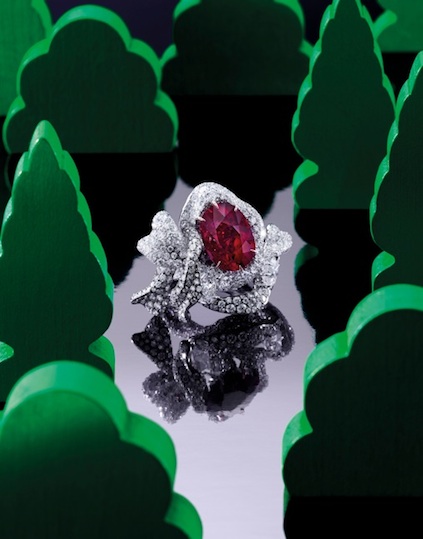 Words cannot describe how proud I am of my dear friend Cindy Chao. In a very short time, she has taken the jewelry world by storm. And redefined the very definition of fine jewelry. As a supremely gifted sculptress, she has elevated jewel art to the next level, raising the bar with her fantastical creations.
The latest is quite a feat. The Ruby Ribbon ring is one of the most exquisite pieces I've seen from Cindy. Her artful interpretation of the classic ribbon-and-bow motif comes to vivid life with the centerpiece: a rare, untreated Burmese "Pigeon's Blood" ruby (named for it's wildly saturated red hue). Framed with 360-degree pave-set dancing diamond ribbons, as Cindy describes it, the effect is "like heavy silk." And the result is dynamic and unreal. Cindy also knows her stuff: "Asians love rubies, but they don't want to look mature." Same goes for all girls, I think! Clearly, this is no average ruby. The ring's worth is estimated between $3.5-$4.2 million.
As a collaboration between Cindy and Sotheby's, the jewel is listed as Cindy Chao's 2013 Black Label Masterpiece No. 19. It goes up for auction on Monday at their Magnificent Jewels & Jadeite in Hong Kong, in honor of Sotheby's 40th anniversary in Asia.