If you've always assumed that great chefs have an innate sense of knowing which foods taste delicious together, they do, but I have news for you, you can too. Even the greatest chefs refer to The Flavor Bible. Karen Page and Andrew Dornenburg's Holy Scripture of flavor pairings is in all the top kitchens and is every chef's secret weapon. The taste-inspired tome is like a dictionary listing of all the best meals. Just look up what you're cooking, and the flavor pairings are right below! Every complimentary pairing is listed (based on expert opinion) from good to mind-blowing, denoted with either regular type, bold, ALL CAPS IN BOLD, and the pièce de résistance – ALL CAPS IN BOLD* with an asterisk which means every expert agrees with the pairing. At the end of the list are "Flavor Affinities" suggesting multiple ingredients in a grouping.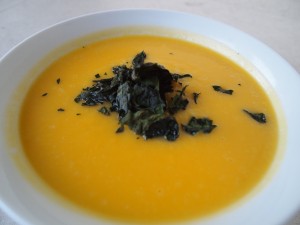 I look to The Flavor Bible for everything but I find it especially helpful when making veggies. Steaming and sautéing gets boring, but with a quick flip of the page, I am suddenly inspired to create a gourmet side dish. Zucchini roasted with Parmesan cheese; cauliflower with curry powder; and broccoli, anchovies, capers, red pepper flakes, garlic, and olives are just a few of my favorites. Is your mouth watering yet? The experimenting is so fun and exciting. My recent box from Farm Fresh to You included winter squash which I had never used before. They looked more like Thanksgiving decorations than actual food! Cross referencing sweet potatoes with the winter squash resulted in a soup that was so ingenious I wished I was competing on a cooking show. I have already begun brainstorming for my annual legendary Thanksgiving menu (I usually have between 45-60 people – it's kind of major) and sweet potatoes were on my mind. It's one of those tired dishes you put out year after year for the sake of tradition, yet never end up eating. I considered testing them with chorizo and orange; kale and prosciutto; or bacon, onions, and rosemary. Then I thought, what about a soup of sweet potatoes and winter squash in a chicken broth made with prosciutto. After roasting the vegetables, I blended it with the prosciutto laced chicken stock in my Vitamix and garnished it with kale chips. It is rich and sweet, and the earthy crunch of the kale chips gives the creamy soup texture. It will definitely be served at my Thanksgiving table this year.
The text also tells you what not to pair, which is sometimes surprising. It turns out seemingly innocuous pairings like eggplant and cranberries, or strawberries and pistachios are not that great. Don't let that keep you from experimenting, though – that's the best part of this book. I'm so obsessed that when the weekend comes around, instead of picking up a magazine, I study this book and decide which recipes I'll try during the upcoming week. When people come over for dinner and ask me where I get my recipes, I've been saying, "Oh, I just came up with it off the top of my head." Well, now the truth is out, but it can still be your secret. Make sure you get yours in hardcover. You don't want a flimsy paperback – you'll be using this a lot. And I wouldn't go for the Kindle version either. This is the kind of book you want to flip through often.
The Flavor Bible is just as essential for experienced chefs as it is for newbies, and even more so for mixologists. You think your favorite bartender was so clever with her yummy lavender, honey, rosemary, and cherry martini? It's spelled out plain as day in the book under lavender. Or how about blackberry, ginger, and peaches? That could be a drink or a pie filling! Anyone can be a Food Network star with this sacred text in hand. On Amazon
for $23.79.