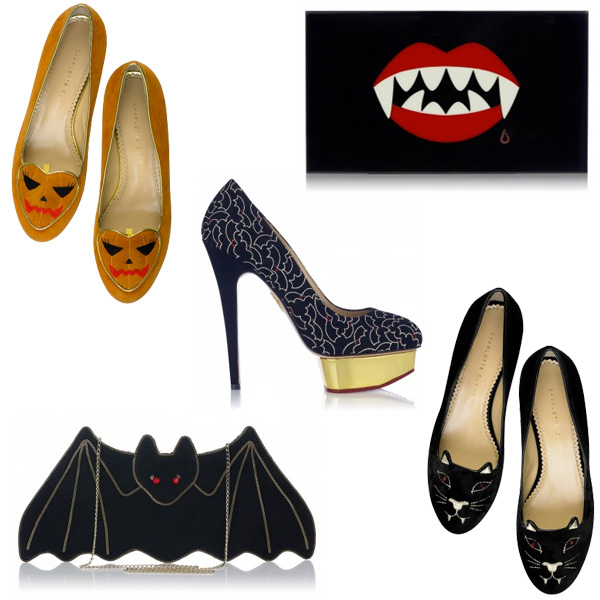 Halloween gives you the opportunity to dress up as someone (or something) else, but does that right extend into everyday style? Charlotte Olympia certainly thinks so! The Queen of Kitsch leads the pumpkin pack with her love 'em or hate 'em holiday accessories. Naturally, her Kitty flats made their way into the collection, updated with red crystal eyes and sharp fangs. Some pieces like the bat-embroidered Dolly pumps are surprisingly subtle, while the Trick or Treat pumpkin shoes and Fancy Bat! clutch are clearly meant for fall. If you're not a fan of investing top dollar in such directional fashion, there are some Frugal Snob options below (plus, one more pricey pick – it's too crazy to exclude!). The question is, are these quirky pieces tricks or treats?
Bite Me Kitty slippers
($695), Bat-embroidered Midnight Dolly pumps
($995), Trick or Treat slippers
($745), and Sucker for Pandora clutch
($1,565) on NET-A-PORTER. Fancy Bat! clutch (£395) at Charlotte Olympia.
Fleet Ilya Skull Harness:
While the construction here is clever, this harness is far from tasteful. And at that price? A definite trick! On Luisa via Roma for $1,639.
ASOS Pumpkin Beanie:
There's something to be said for spending less on cutesy purchases. It's much easier to rationalize being a pumpkin head when you know the fun came at a fun price. On ASOS for $21.36.
Zephyr Vampire Stud Snapback Cap:
A girl with the right kind of edge could pull this off, even in the middle of spring! On ASOS for $53.39.
ASOS 80 Denier Glow in the Dark Skull Tights:
Though the idea of glow in the dark tights is intriguing (especially for younger ASOS Snobs), they're strictly for Halloween. On ASOS for $14.24.
ASOS Leather Skeleton Printed Gloves:
Switch out your black leather gloves come October for a skeletal special. On ASOS for $39.16.
ASOS Cat Ears Veil Headband:
While you might look at these and think of underdressed college girls who've painted whiskers on their cheeks and called it a costume, cat ear headbands really are having a moment (just make sure you choose the right moment to sport them). On ASOS for $17.80.