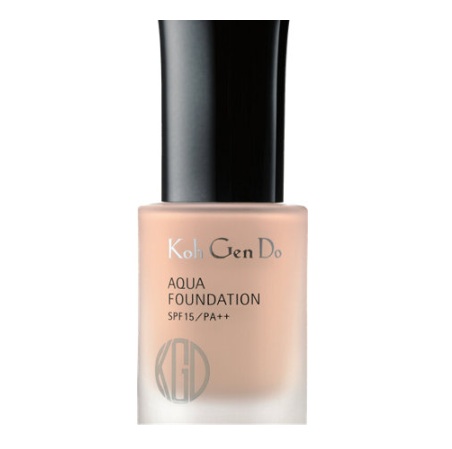 I love Koh Gen Do! I can't live without their Cleansing Water Cloths, and now the only foundation I'll use is their Aqua Foundation with SPF 15. I don't wear foundation everyday, but when I do it's because I want a polished look. Here's the trouble I always run into (that everyone runs into) – I want the appearance of perfection while looking perfectly natural, and yet full coverage inevitably makes me look unnatural. The catch-22. Of course everyone says her foundation is the one that will magically transform your skin into a porcelain complexion. Well, I've accepted the fact long ago that my face is so far from porcelain that if I got it to look like that I would be wearing a mask. Oh, how I gave up the holy grail of the skin perfection so easily! The Koh Gen Do Aqua Foundation is the only one that has even come close, and although it doesn't cover up every last freckle and dark spot (that would actually look weird), it gives the smoothest and most even tone my face has ever seen.
I had it on during a recent photo shoot and swear I thought the photographer Photoshopped me – she said she didn't need to. That's a first! I also applied the Pearl White Cover Base, which illuminates the skin to give a backlit glow. When used with flash it washes out every bit of blemish, making this a must for nights out with friends who love to take pictures. The color I use is OC-2 for my slightly olive tone. It's such an exact match I feel like it was made for me. The foundation goes on very evenly and feels like nothing. The pigments and the way the light reflects off of the makeup supply the illusion, so it isn't just a massive cakey build-up that physically covers imperfections. Foundation
($62) and makeup color base
($50) at Barneys New York.