Opus One
The first stop on our Napa Valley wine tour was Opus One. Just as you should always drink the best wine first, you should visit the best of the Valley before going anywhere else. It sets your expectations pretty high, but fortunately, there's a lot of good wine to be had in Napa. One of the reasons Opus is so incredible? It was founded by Robert Mondavi and Baron Philippe de Rothschild, the two greatest winemakers in North America and Europe, respectively. The wine is considered to the best in California, and I have to agree. They only produce "Estate" wines, which means they grow every grape themselves on their various properties (if it doesn't say "Estate" on the bottle, the grapes came from growers). This is a big, bold red – a blend of Cabernet Sauvignon, Merlot, Cabernet Franc, Malbec, and Petit Verdot. The blend is different every year to get the same characteristics of the wine. It's dry, rich and full without excessive tannin. This is an indulgence all your senses will appreciate.
For $40 you get a precise 4 oz. glass, which is exactly your share of the $235 bottle (and yes, it's worth rearranging your shoe budget for). You're free to walk around their property, but the terrace is where you should spend most of your time. The building itself is magnificent and from the terrace you get a gorgeous view with a soft breeze as you enjoy perfection in a glass.
And now the big secret that I'll share, one they try to keep pretty tightly tucked away. Opus produces a secondary wine – Overture – that sells for $80. It's made from different vintages, but it's the same wine. Okay, not exactly the same, but when you taste this, you are drinking Opus One – there's no doubt. I've done blind taste tests at home for fun, and you really can't tell them apart. They don't have tastings of Overture for that exact reason. At a third of the price, this is what I buy so that I don't have to wait until my birthday to justify opening a bottle. You can only purchase Overture at the winery or through their website. Do that now.
Silver Oak
If you visit Opus One, be sure to stop down the road at Silver Oak, it's literally 2 minutes away. You don't need a reservation for a regular tasting, which is all you need to do here. They'll pour three wines – their Estate Cabernet Sauvignon, the Napa Valley Cabernet (a blend), and a library reserve. We were lucky enough to have gotten the 2005 Estate Cabernet, a year that by everyone's account is stellar (2007 is also an excellent vintage and 2012 is an exceptional year for Napa in general). I really love Silver Oak – it's a wine that makes any celebration special. I always begin Thanksgiving with a bottle so my guests have learned to come early because I only open one!
It's also the best deal for a tasting – $20 gets you three pours, and you can keep the nice Silver Oak etched Riedel glass. Silver Oak is a little more relaxed, and if you're friendly to your host, he or she may give you a generous pour. Yet while the winery is beautiful, there isn't a place to sit. For me sitting at a tasting makes it so much more enjoyable, but the wine is good enough to deal with it. Even private tastings are standing, but they do have sit down food pairings that are great, though those require a lot more time. This is always a quick stop for me.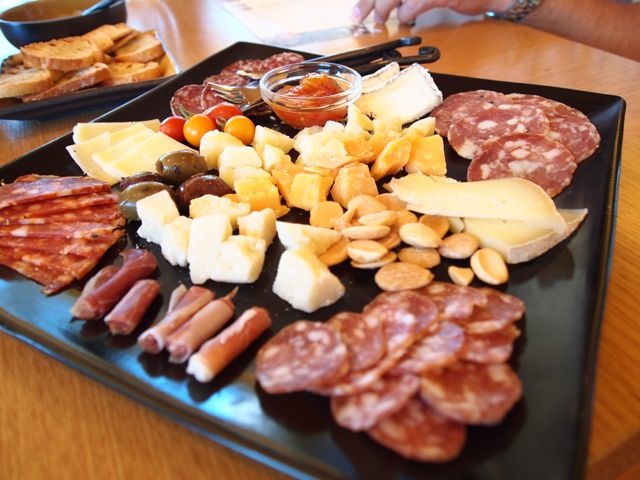 Whitehall Lane
We did Opus One and Silver Oak Friday when we landed, but our big day was Saturday. We arranged all reserved, private tastings. This is the best way to do Napa. Make reservations and plan out your day to ensure you get to the wineries you made the trip for. We flew in to Sacramento (the easiest and least traffic so definitely fly in there) and rented a car, but of course didn't drive ourselves – the best way to go is a car service called Napa Bee Driven. They'll drive your car or your rental at half the cost of what it would be to get a limo or SUV, and if you're like me, a limo is terrible because I get carsick. Plus, you can't see out of the tinted windows, and enjoying the scenery is so much a part of the experience. Napa Bee takes care of everything – they have insurance to cover your rental, so you don't have worry about getting additional coverage. The owner, Donna, is incredibly helpful and will work with you to plan your itinerary. Our driver Leilani was so fun and accommodating, I will be calling her back next time.
We decided to start at Whitehall Lane. I had never tried their wine, and new discoveries are the reason to visit Napa. I chose it because they're known for their Cabernets, and I do love my Cabs. The location is central, the building non-descript, but the wine – fantastic! We went with the $37.50 Cicchetti experience. It was essentially charcuterie and SO good that I went searching for the cheeses they served afterwards, especially the Asiago-esque St. George.
Our host Jeff was knowledgeable and answered our never-ending list of questions then took us on a tour of their harvesting. The harvest season is a nice time to visit – the weather is ideal, and you get to see them busy at work. You get the "great" aromas of fermentation and while the scent of fragrant moldy grapes was okay at first, by the end of the weekend it smelled more like the floor of a bar to me. To celebrate the harvest season, there are many festivals, and restaurants and wineries hold special events like pig roasts. It's a fun time to visit, but if you just want a wine tasting, it's best to avoid coming during this crowded busy season (mid October – early November).
They were bringing in Zinfandel grapes when we were there. The one ton crates of grapes are put through a destemmer then through a crusher which extracts the juice, all of this go into stainless steel tanks for the first round of fermentation. They decide how long the grapes stay in there before the solids are removed, and then they barrel age in either oak or another smaller stainless steel barrel (Californian wines are known for the oak flavors, so most go in either French or American Oak barrels). The one bunch of grapes that Jeff held up for the photo will make about one glass of Zinfandel, which is a bigger grape with a lot more juice versus Cabernet which are tiny and much yield less. You'd think it would take a lot more grapes to make wine, no?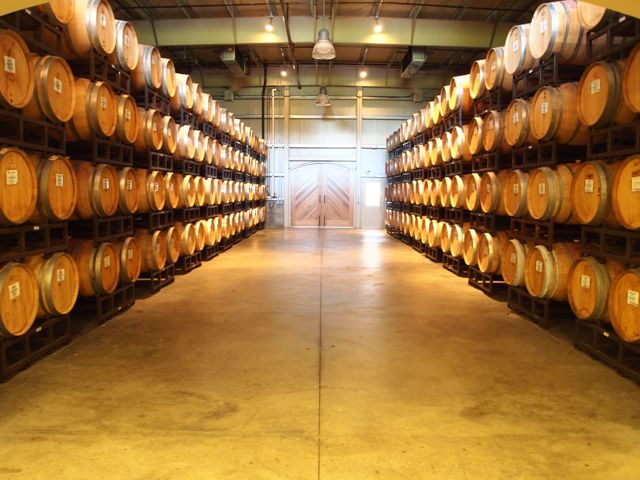 We were treated to a vertical tasting of their Estate Cabernet Sauvignon. Verticals are chronological vintages of the same wine – we tasted 2005, 2006, and 2007, which are recognized to be the best Napa vintages in recent history. Most people like 2007 best, but the 2005 was my favorite. After the tasting we walked through their barrel room and tried a Sauvignon Blanc that was in its first week of fermentation. It tasted like super sweet, spiked juice. Next we did a barrel tasting of Cabernet that was about halfway through the aging process. Its kick startles the taste buds – this is what they refer to as being "vibrant". In the end, I left with a 2005 Estate Cab. We had such a good time with Jeff that he decided to forgo our $75 tasting fee, so basically I got the $85 bottle for $10!!
Chateau Montelena
I love, love, love Chateau Montelena! It's right up there with Silver Oak, which is hard to beat. The property is amazingly beautiful. In the middle of man-made Jade Lake is a small island with a pagoda-style gazebo on top (built in the early 1950s when a wealthy Chinese family bought the grounds for their retirement). If you're a member of the wine club, you can use the island for private picnics.
There is so much history here, the most important was the 1976 Paris Tasting when the 1973 Chardonnay beat out every other white wine, including four top French White Burgundies. The French could not believe what had just happened. It was then that the California wine industry was put on the map.  Now that Montelena's evolved and found their niche, it's the Estate Cabernet Sauvignon that keeps bringing in the cult followers year after year (though the Chardonnay is still fantastic, it is unlike most California's buttery oaky flavor).
The popularity keeps this place bustling so be sure to do the Library wine tasting. You get a private room with 10 others, where it's nice and quiet. A host will guide you through a tasting of much better wines than those at the bar tasting, making it well worth the $50. We also did a vertical tasting of 2005, 2006, and 2007. We could not have planned it better, a back-to-back vertical tasting of the same varietal really gave us a good sense of the differences between these vintages.
I loved all 3 of these vintages so much I went ahead and bought all three, and even joined their futures membership. It's different from most memberships, it's exactly like buying commodity futures – you pay less now for the current year, but have to wait two years for its release. Once those first two years of waiting go by, though, you'll get wine every year at 45% off. While my math isn't all that great, I know a good deal when I see one. I have the three bottles I bought to keep me company until my first shipment arrives in 2015, which will be the 2012 vintage. It's supposed to be even better than 2007!
Jarvis
Jarvis is another wine that I hadn't tried and once again, I made a pleasant discovery! Besides being delicious, the makers are eco-friendly. They built the entire winery into a mountain in caves to minimize disruption to the surrounding landscape. This also keeps temperatures and humidity at optimal levels without the use of energy. A stream runs through the property, so they also brought this into the cave. There is a waterfall now and small lagoons throughout that act as natural humidifiers.
Jarvis is a small producer, but has a lot of intriguing projects. One wine, called The Science Project, came about when the owner's son Will Jarvis blended Cabernet Franc with a hint of Merlot for his 8th grade science project! The family tasted it again 10 years later and were so blown away they decided to recreate it. While the name might not pull you in, trust me – this wine is incredible. I tend to like ones with multiple dimensions, and this blend had so many different flavors it was like a wine version of pop rocks in my mouth.
You must make a reservation here. It's a big tasting of six wines for $60 – they charge in advance and won't let you cancel. It sounds a little pricey because their wines are expensive, but they'll keep pouring as much as you like, including a very nice Reserved Cabernet. We had the 2005, which I highly recommend. Finds like this are the reason I go to Napa once a year!
Part Two tomorrow! Stay tuned.