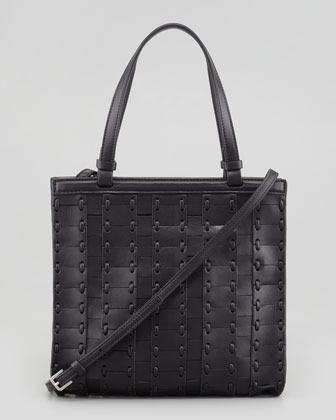 Trust the young ladies of The Row to offer a true twist on the time-tested weave theme. The way this shopper's tiles are stitched and woven is more similar to the way metal plates are attached, rather than plain, old interlocked bands of leather. Cute, compact, and slim, this is flirtier than most of the bags we've seen from the brand (thank those perky, chunky-stitched tiles) – but still thoroughly subdued.
Petite, it looks perfect for your daily run-around. It's got a long strap for crossbody-wear, but the lengthy top-handles don't fold down all the way so they might trip you up. The unlined interior is also a bit worrisome; I would hate to see that intricate leatherwork get ruined. But if you can swing it (and keep the inside clean), the overall effect is undeniably chic. Loads of detail with just as much low-key restraint. The Olsens deserve credit for maintaining their aesthetic in such cool fashion. Available for pre-order at Neiman Marcus for $1,950.
Pair with: Play up the texture with a pair of leather-paneled leggings worthy of fuzzy sweaters and moto jackets alike, like Rag & Bone's Jackson leggings. On My Theresa for $586.