One thing you're always guaranteed in Spring collections? Florals! You would think that seeing them again and again each year would grow tiresome, yet (for the most part) designers manage to keep the look fresh – no pun intended! Let's take a look back at each city's flowery Spring '14 bags, beginning of course with Paris. Surprisingly they offered little in the floral department, but what we did see was bright and unapologetically bold like Dries Van Noten's opulent black clutch. Carven put out just as much color, though in a different shape – slouchy little totes inspired by '90s teen spirit.
The Italians went subtle, focusing on lace and embroidery rather than exotic floral varieties or hues. Giorgio Armani traveled under the sea with his pastel palette, mixing anemones with blooms, while Dolce and Gabbana stuck with classic black, proving that not every flower needs to be flowery.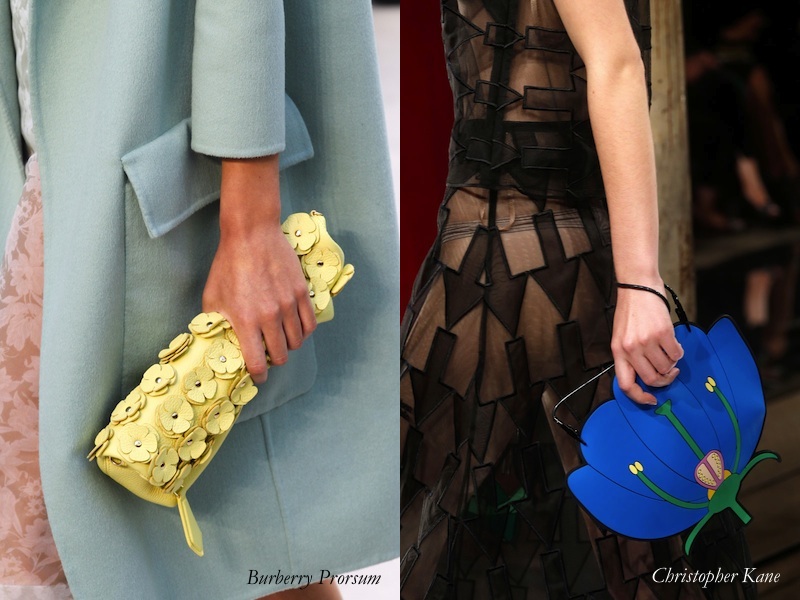 The land of English roses lived up to its nickname. Burberry Prorsum covered clutch after pastel clutch in leather appliqués. Christopher Bailey even showered the stage in petals for the finale! Sadly, that sense of bravado did not save these bags – the excess was more like an overgrowth. Christopher Kane also based his collection on flowers – their anatomy, to be specific (one sweatshirt goes so far as to label the parts of a plant). He took his inspiration for this blue blossom from a "sex ed. Biology textbook."
One of the prettiest bag collections of Spring '14? None other than Tory Burch's! It came with matching floral tunic pant sets and sundresses. She even debuted some fanny packs (I know the chic term is "belt bags," but let's not beat around the bush). Tory also brought out basket bags carrying real flowers, yet it was the delicate prints I desired most. Another NYFW success? Marchesa – Keren and Georgina are no stranger to florals, so naturally these soft, fluttering petals blew me away. Bottom line? Whether slung across the shoulder, dangling from the arm, or worn fitted across the waist, flower power is in for Spring 2014.
This post is also available in: Chinese (Simplified), Chinese (Traditional)