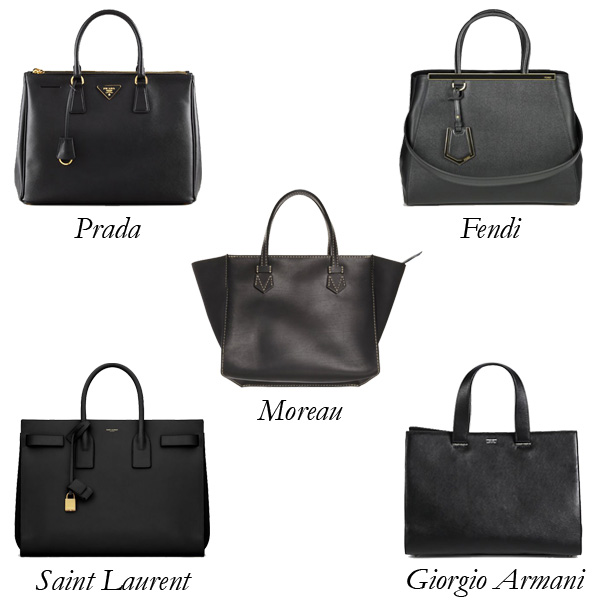 Here's an homage to the most quintessential bag, the open, structured black tote that we all should have. Boring? Maybe. But useful? Very. I often find myself going for this most basic style, even though I choose to complicate my life by filling every storage space with such a variety of bags that I don't ever need the black tote. Of course for editorial sake, flamboyantly fabulous bags are fun to write about and sometimes to take home, however the bag is first and foremost a functional necessity and that's where these classic beauties come in. If you have to go basic, relish in a bag with exquisite craftsmanship and subtle details. You only need one of these, so make it the best.
Sometimes I forget to abide by my own version of the KISS principle, Keep It Simple Sophisticated. Because most of the time it's like this – I wear immaculately tailored black slacks with a sweater and all day long people are like, "You look so nice today." And I'm thinking, what about the sheer mesh beaded pants I wore yesterday with the awesome Alexander McQueen belt that nobody said anything about? Hmm should I rethink that outfit or just go on believing that people just didn't "get" it?
Prada Saffiano Lux Tote Bag:
Like I said, you only need one of these for life, so durability is vital. Few leathers hold up as well as Saffiano. It maintains its structure and is more forgiving to water (though I still wouldn't take it out in a storm!). At Saks Fifth Avenue for $1,870.
Fendi 2Jours Medium Mixed-Media Shopper:
An everyday essential also calls for organization, and with three internal pockets, the 2Jours delivers in spades. At Saks Fifth Avenue for $2,350.
Moreau Bregançon Zip Tote:
It may seem odd that the least known brand has the highest price tag, but this is a French maison founded in the mid-1800s – they know their leather! At Barneys New York for $3,100.
Saint Laurent Sac du Jour Tote:
Sure, there are still cries that this is too Birkin-esque, yet we here at Snob have come around to admiring Hedi's well crafted, sleek simplicity. At Matches for $2,381.
Giorgio Armani East West Tote:
This is for the truly minimalist Snobs. There's no hardware or embellishments, and inside is just one zip pocket. Even the logo is just barely visible up top! At Saks Fifth Avenue for $1,995.