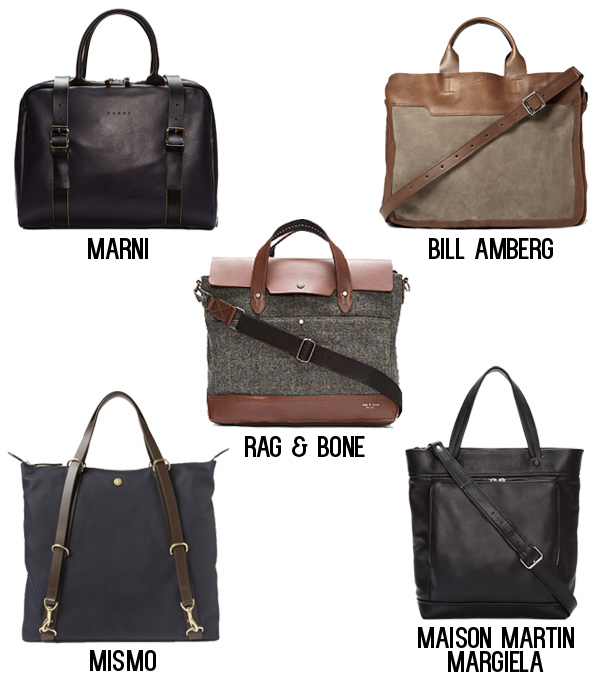 I get a lot of my guy friends asking me for bag recommendations. They're always looking for fully functional bags that won't give their manhood a hit (if you ask me, that fear itself is an instant hit to one's manhood, but no judgments here). I have no idea why it's not socially acceptable for a man to carry a bag – they have to stuff to carry, too. I see some guys walking around with that giant version of the Galaxy phone, and I seriously wonder how they carry it with no bag. You need to be wearing True Religion jeans for it to fit in your back pocket, and just as a side warning, that is the worst place to keep a phone (just ask mine, who recently had a bungled meeting with the bottom of a toilet).
I love these man bags here – so much, in fact, I would carry them myself. Especially the rugged ones with polished details, a la Marni and Mismo. There is something so cool about a girl who's not afraid of masculine edge – and guys who aren't afraid to carry a bag, for that matter.
1. Bill Amberg Explorer Leather and Suede Briefcase:
 With tan suede and chestnut leather, this rustic briefcase speaks of old-school travel bags fit for an adventurous safari. On Mr. Porter for $650.
2. Mismo Leather-Trimmed Canvas Tote:
 Dark navy and light gold is a brilliant combination, especially when it's pulled together with diagonal (and adjustable) leather straps. On Mr. Porter for $515.
3. Rag & Bone Grey Windowpane Check Wool Leather Trimmed Rugged Tote:
 Get in the mood for colder weather with some rich wool, topped with a hint of plaid for added intrigue. On Ssense for $450.
4. Maison Martin Margiela Black Leather Tote:
 Calling all refined rockers – with a wealth of functional features, this is good as simple black leather and silver hardware gets. On Ssense for $1,630.
5. Marni Dark Purple Buffed Leather Laptop Bag:
Hear "purple" and run for the hills? Marni makes you think again with their inky take on buckles, straps, and treated skin. On Ssense for $1,440.