Earrings, bracelets, necklaces, rings – these are our daily jewels. When you're craving a change, a decadent headpiece is the way to go. I've saved the best for first – London-based jewelry designer Sabine G.'s silver-plated gold headpiece. It's part of the Relic collection, an assembly of pieces inspired by the engravings on a 12th century medieval box. Each one is handmade by Florentine artisans, and if that's not enough, did I mention this diamond and ruby-encrusted headband doubles as a necklace? Available at Sabine G. for $23,452.
Dauphines of New York Secret Garden Crystal Headband: Unusual pieces sometimes come at unusually high prices. To get the look for less, Dauphines of New York has countless options like this crystal daisy chain. On Caratime.com for $135.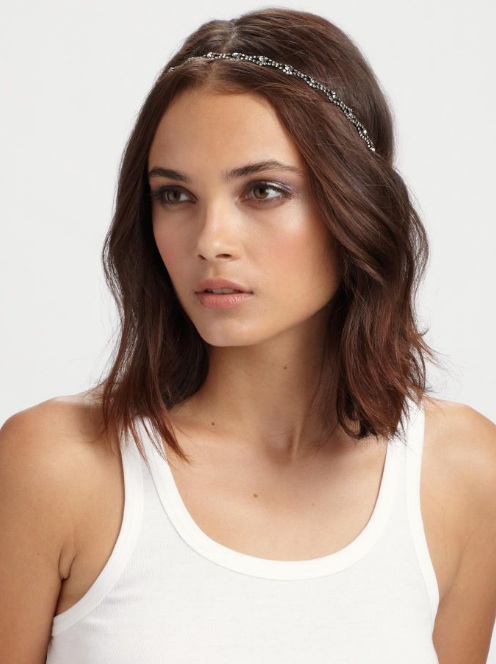 Jennifer Behr Crystal Scalloped Headband:
Another benefit of buying Frugal is that you get elastic bands that offer a snug fit. Wear them underneath your hair as headbands or over your locks tiara-style. At Saks Fifth Avenue for $168.
Nina Abril Crystal Ribbon Head Wrap:
A satin ribbon head wrap makes the ladylike look even more romantic. While you could wear it to a wedding or formal event, you could also just wear it on a Monday! At Nordstrom for $150.
Tasha Crystal Beaded Ribbon Head Wrap:
This is perfect if you love the Nina head wrap, but long for something a little bolder (and less expensive) like beading. At Nordstrom for $90.
See celebs sporting the trend below!