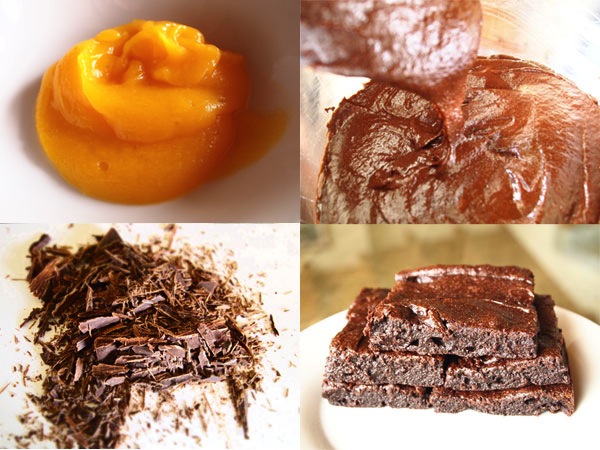 If you're like me, you probably have more pumpkins than you know what to do with once Halloween is over. Just a great decorating item you say? How about turning these decorations to dessert? And I don't just mean pie. I decided to try something new this year – making yummy brownies using nutrient-rich, low-cal pumpkin puree in lieu of butter and eggs. It'll save you 1,000 calories! 966 to be exact. You might be thinking that there's no way pumpkin can recreate the buttery goodness of a traditional brownie. Trust me, though – these are super-moist and absolutely delicious.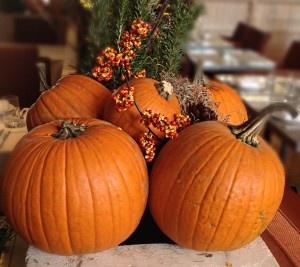 To start, cut the pumpkin into chunks that will fit into your steamer, then steam for 20 minutes until they're soft when stabbed with a fork. Scoop them out of the rind and finely puree the pieces in your Vitamix, blender, or food processor until all chunks are gone. If the recipe calls for water, add it while blending. And here's where you make the switch – replace the oil or butter (a stick of this is 810 calories!) and the one or two eggs, depending on what your recipe (78 calories each) with 1 and ¾ cup of pureed pumpkin. Once you mix this up, you'll see that the consistency ends up being the same as the original recipe. From here, just use your regular instructions. Nuts? Chocolate (yes, please!)? It's all up to personal preference. I love a rich chocolaty taste, so I use shaved chocolate.
While these are much chewier than regular brownies, it's a nice change – almost like fudge. They don't crumble, making them perfect for decorating with kids (the square shape lends itself easily to making Frankenstein heads or turn the entire pan into a haunted graveyard). The surprising thing is, they don't taste like pumpkin at all. The chocolate completely masks that flavor. I also tried making gluten-free brownies this way, and they came out just as scrumptious and even chewier. Plus, since gluten-free baking typically calls for more oil and/or butter, the health benefits are even better. Try the recipe out for yourself, and let me know what you think!
*I loved the piles of pumpkins I saw at a restaurant and recreated these all over my house! Super easy to do and instantly gives your home a Fall feel. Now you know why I have so many pumpkins!!!