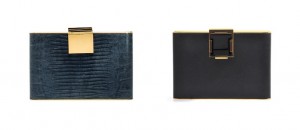 Bag Snob is living la vie en Lanvin.
Take a look back at Marc Jacobs' best moments at Louis Vuitton on The Cut.
Couture Snob tells us how to win a Kenzo top right off the runway!
Mourning the end of Breaking Bad? Get your fix with Fashionista's look at the show's best fashion statements.
Shoe Snob's latest find oozes sophistication.
Take a peek at Vogue's fashionable fall reading list.
Tot Snob breaks down one of Kate Middleton's chicest (and best-priced) outfits.
SHEfinds knows that going to the gym is easier when you look good – see which chic gym bags can act as motivation.
Check out which products Beauty Snob promises will give you skin as soft as a newborn's.
WWW scoured every last Fashion Month show to find the best accessories – the ones we'll all be wearing come spring!
Think you're too old to trick or treat? Jewel Snob begs to differ.
Dazed Digital sits down for a video interview with Loewe's new creative director, J.W. Anderson. Excited to see what he'll come up with?
Snob Living shows us how to change the entire feel of our bedrooms with just one piece of furniture.