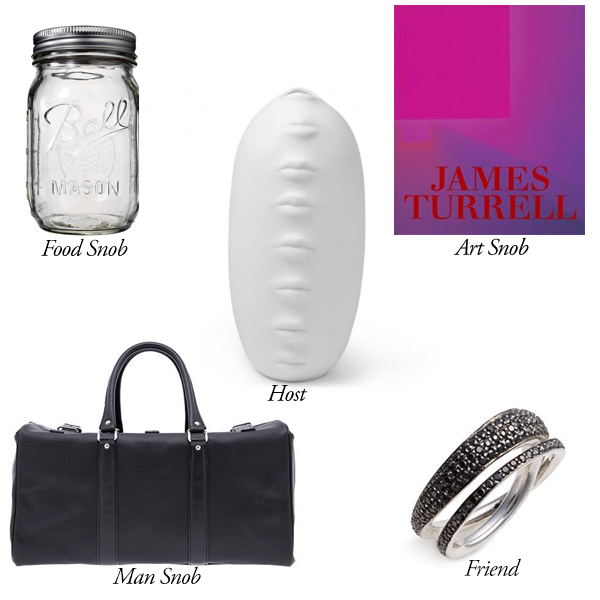 It would be easy to get all of your loved ones the same generic gift, but that takes all of the fun out of it! I like to tailor presents to each individual, whether it's my hubby, dearest friend, or the host of a party. Instead of running around from store to store, why not get all that shopping done in one online stop? eBay has just about everything you could dream up, and we've curated 24 collections of our favorite pieces to make your search even easier. Follow us for holiday shopping inspiration! #FOLLOWITFINDIT
Food Snob
12-Pack of Mason Jars ($18.95): Homemade gifts are the best, so for the Food Snob in your life, make a treat like jam and pack it up in a Mason jar!
Host
James Turrell: Seeing Yourself See ($88.56): Wine and candles are foolproof host gifts, yet if you want something a little more unique, pick up a coffee table book.
Art Snob
Jonathan Adler Gala Vase ($250): While you may want to get your artsy friend an actual piece of art, they're often way out of the holiday gift budget. A standout piece of home décor will be just as loved.
Friend
Tom Binns Bejewelled Double Ring ($99.95): Who ever went wrong with jewelry? And here's why you should get presents on eBay – this ring was originally $275 and it's still brand new!
Man Snob
Yoshida Bag ($1,638.75): Man Snobs need bags too (honestly, how do they carry everything they need without them??), and this Japanese-made duffel is one he'll be proud to tote and even prouder that it came from you.
My eBay collections were curated as part of my collaboration with eBay.