If I had one ultimate pipe dream, this kitchen would be it. The La Cornue Grand Palais 180 custom built stove is the pinnacle of luxury living, well specifically, of cooking. The likes George Clooney and Brad Pitt have it, but seriously, I'd like to go and cook for them because I highly doubt they are enjoying this grand masterpiece in their kitchen themselves. Each model is designed and configured to your own specifications, whether you need gas or electric ovens or both, gas burners or electric plates or both, a lava rock, a teppanyaki grill or even induction plate. And each of these elements can be placed where they best suit your habits. For me, I do a lot of simmering so I would want 2 electric burners off to one side, the side away from the hustle and bustle of my kitchen, then I want 4 gas burners separated by the grill so my pots aren't bumping in to each other. I want 2 ovens, and the fact that you can have one gas and one electric is incredibly brilliant and helpful, for baking you need the even temperature control of electric but for broiling there is nothing like a roaring gas oven. You can of course customize the finishes, from polished, brushed or satine brass, copper, stainless, nickle or inox trim and 29 colors to choose from.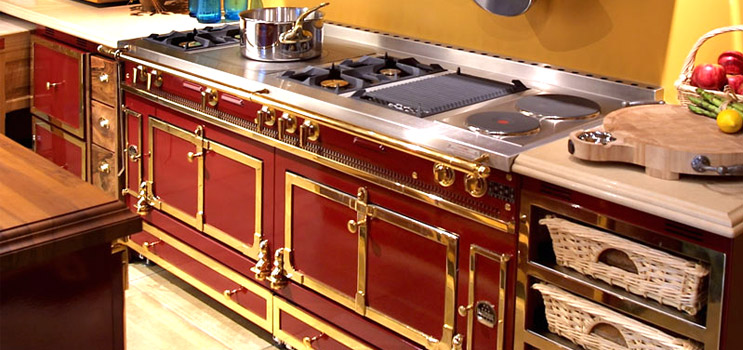 Dreaming of this stove is at its peak this time of year, as Thanksgiving approaches, I have to map out each step of my cooking because I have limited cooking space (and I have a huge kitchen!). I spend all my free time in the kitchen because I love to cook and tinker with recipes as well as create my own. I am planning on a major remodel of my house in a couple of years and I plan on staying in the house for the rest of my life so you would think this is a true and worthy investment, but as you might imagine, the sticker shock is more like an electric storm than a startling bolt. Customization starts at $100,000, check it out at The Fancy.
My custom color combo would be the Icy Blue with polished copper and brushed stainless rail plates. A touch of color, much warmer than stainless and neutral enough to not tire of over a lifetime. Their signature copper knobs have to be polished to properly show them off. The rest of the trim are in brushed stainless to offset the brilliance of the copper.