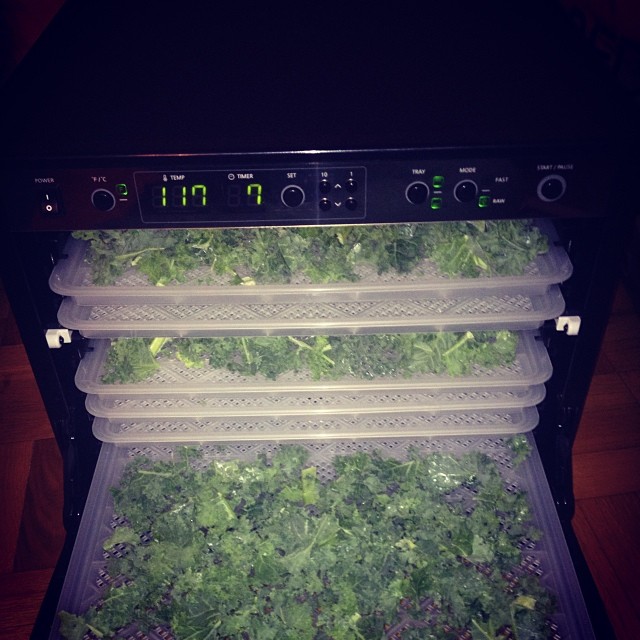 I am not big on cooking. Actually, I hate it, but there are two gadgets I can't live without: Vitamix and now this Sedona dehydrator. What's great about these two is that they make everything EASY. Sedona's dehydrator not only makes it possible for me to make all the amazing raw-vegan dessert recipes I've been reading about for years (macarons! cookies!), but I can make kale chips and fruit leathers and all kinds of other healthy snacks that put to use produce that I would otherwise throw away because they're not fresh enough anymore for me to want to eat as is. Unlike other dehydrators that require adjusting temperatures and keeping an eye on what you're dehydrating this one is totally automated and basically does all the work for you. Better yet it dehydrates everything at the optimal temperatures so you don't lose any nutritional value, it's not loud, it has a glass window so you can check on the progress, and it has a super easy to clean interior (there's even a RAW setting to ensure that nothing ever overheats and it can dehydrate for up to 99 hours).
There is also a way to only use 1/2 the trays so you save on electricity. The downside is that the machine is heavy (about 25 lbs), and large so make sure you have enough room. But if you're looking for an easy way to incorporate healthy foods into your diet, this is a fun gadget to play with. If you get this I'd also suggest buying these books
to put it to good use right away. That said I will say that if you're looking to use this to make gourmet raw snacks, a lot of the ingredients required are expensive and can be hard to find (I now have an even deeper appreciation for One Lucky Duck…). Also, while this dehydrator is super easy to use once you figure it out, do give yourself some time to play around with it/master the instructions!