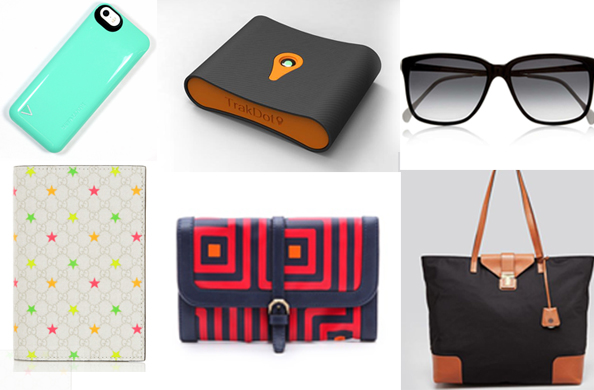 Travel trends may come and go, but necessities are necessities. You don't just want to look good at the airport, you want to be prepared and comfortable for a no-fuss flying experience. As a road warrior myself, I've learned a thing or two about what is absolutely vital to airport survival. Below are a few of my favorite travel essentials for you, or that special traveler in your life.
1. Charger: There is literally nothing worse than having a dead phone in an airport and having to shoulder up next to someone who's eating an Arby's sandwich at an outlet to get a few precious bars of life to text your friends to tell them you're alive and in O'Hare (inevitably) for the next 5 hours. Charge your batteries with this hybrid battery for iPhone 5 and never lose power or style while traveling. On Boostcase for $79.95.
2. Luggage Tracker: It's a fun trend for airlines to lose my luggage then occasionally play all like, "You flew with us? When? This year? No record of that!" Some are better than others, but to be safe, keep tabs on your checked luggage with a Trakdot luggage tracker. On Trakdot for $59.99.
3. Travel Wallet
: Keep track of all your important travel documents and papers (and if you travel for business – god-forsaken RECEIPTS!) with this passport cover/travel wallet by Gucci. On NET-A-PORTER for $295.
4. Oversized Sunnies:
Nothing is worse than 6 hour flight face. You're puffy, tired and starving even though you ate 100 bags of fruit snacks on the flight (or is that just me?) Hide behind some sweet sunnies for a saving grace like these by Sheriff&Cherry. On NET-A-PORTER for $130.
5. Jewelry Roll:
 This sounds like a delicious holiday treat – but it's actually a tasty travel accessory. Tangled necklaces cause me to go straight to the mini bar which translates into a completely unnecessary $50 vodka concoction when I get the hotel. To save time and money, pick up a jewelry roll that will safely and neatly store your pretties in a pouch. On Shopbop for $68.
6. A Go-To Tote:
You need something that won't show wear and tear easily, something that's easy to throw on your shoulder as you're pulling your coat on and forgetting your belt after security; enter the Tory Burch Penn Tote. Nylon and leather will keep this tote clean and together forever. On Shopbop for $275.