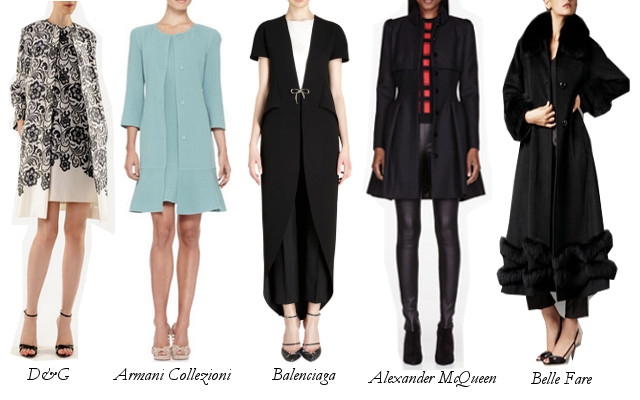 Some Snobs hate winter because it means covering up a season's worth of glittering outfits, and while I understand the frustration, there is a way to stay chic in the snow – by making your coat a part of the look! With these coat dresses, you should have no problem doing just that, whether you'd prefer it function truly as a dress or merely as the icing on your ensemble.
Dolce & Gabbana Lace-Print Belted Robe Coat:
Lace wouldn't exactly make for the warmest of coats, yet a lace print? Perfection! Get the matching shift for the full dress look. At Neiman Marcus for $4,895.
Armani Collezioni Double-Face Crepe Dress Coat:
This sleek, aqua coat is the epitome of ladylike fashion – the kind of piece you'd expect to see hanging in Kate Middleton's closet (with a coordinating hat, natch). At Neiman Marcus for $1,575.
Balenciaga Short Sleeve Tie Front Dress Coat:
I spotted this at Barneys and was instantly enamored. Between the white inset and the holiday-friendly bow closure, it's clear that this in no ordinary piece of outerwear. At Barneys New York for $2,950.
Alexander McQueen Black Felt Pleated Victorian Coat:
This is just the right coat to wear over a flouncy party dress. The pleated skirt (and frilly back accent) offer up girly fun worth celebrating. On Ssense for $4,475.
Belle Fare Fox-Trim Ankle-Length Coat: This black beauty gives you your dramatic fur fix without going all the way. At Neiman Marcus for $1,395.