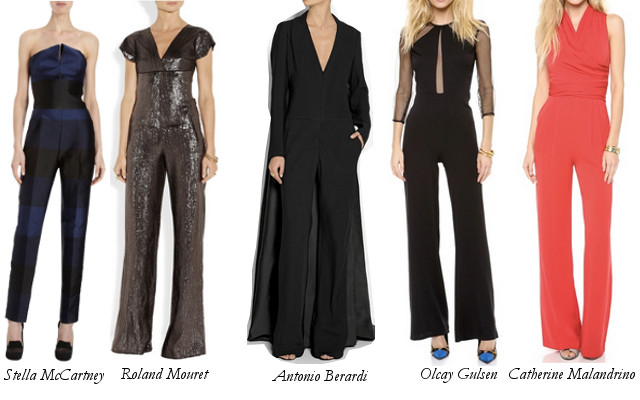 I love to wear jumpsuits in the fall, and whether you want to go casual or formal, this season's offerings are proving to be better than ever. They always make you seem polished and put together, even if you just pulled one on and ran out the door. There's nothing to tuck in or keep tabs on. It's as easy to throw on and accessorize as a dress (well, except for the restroom run!), and far more unique. Little effort is required, but the look will make a big splash.
Stella McCartney Striped Strapless Jumpsuit:
For those worried about being swallowed up by tons of fabric, Stella's silk satin will guarantee a crisp silhouette. At Barneys New York for $2,965.
Antonio Berardi Crepe Cape Jumpsuit:
Hasn't everyone always wanted to wear a cape? This suit style will make you feel like a superhero or a rock star. It's no wonder this was the finale look of Antonio's runway show. On NET-A-PORTER for $7,450.
Roland Mouret Verona Cutout-Back Metallic Woven Jumpsuit:
With wide-legged jumpsuits, it's important to choose one with a figure-hugging bodice, and since this is made from scuba-jersey, you're sure to have a flattering fit. On NET-A-PORTER for $4,375.
Olcay Gulsen Long Sleeve Jumpsuit:
The Dutch designer takes on the mesh trend with a sexy cutout that's big enough to draw attention and slim enough to keep it classy. On Shopbop for $750.
Catherine Malandrino Marion Favorites Jumpsuit:
This is the most casual option, yet even the vermillion silk number could be dressed up with the right accessories. On Shopbop for $395.