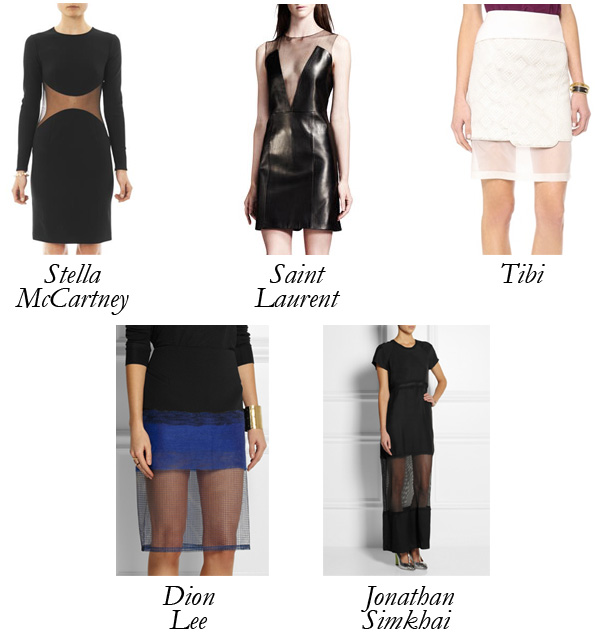 It may be getting chillier outside, but I'm not ready to sacrifice my summer looks just yet. The solution? Sheer paneling! This peekaboo trend is taking over the season in everything from mesh to crepe to silk. While you can find the style on all sorts of pieces, I favor the skirts and dresses. The idea of revealing-without-actually-revealing is distinctly feminine and serves it purpose best on designs already playing to that appeal. Which will have you showing off this fall?
Stella McCartney Becky Sheer Panel Dress: Stella knows how to contour a woman's frame with flattering cuts and angles, making this the most unique paneling of the bunch. At Matches for $1,807.

Saint Laurent Sheer-Inset Lambskin Leather Dress: This is less of a peekaboo and more of a punch. The plunge may seem extreme, yet with the silk inset, you can get away with it. At Neiman Marcus for $4,290.
Tibi Paneled Embroidered Skirt: For something a little softer, go with white. The angelic hue adds elegance to the sexy style. On Shopbop for $375. 

Dion Lee Crepe, Wool-Felt and Mesh-Paneled Skirt: 2013 has brought us mesh lashes, shoes, and now skirts! This particular incarnation was inspired by the architecture of Sydney Opera House. On NET-A-PORTER for $1,470.

Jonathan Simkhai Mesh-Paneled Silk Maxi Dress: Sometimes a long black dress can swallow a petite Snob right up, yet with the addition of a sheer panel, the excess of fabric becomes surprisingly seductive. On NET-A-PORTER for $745.