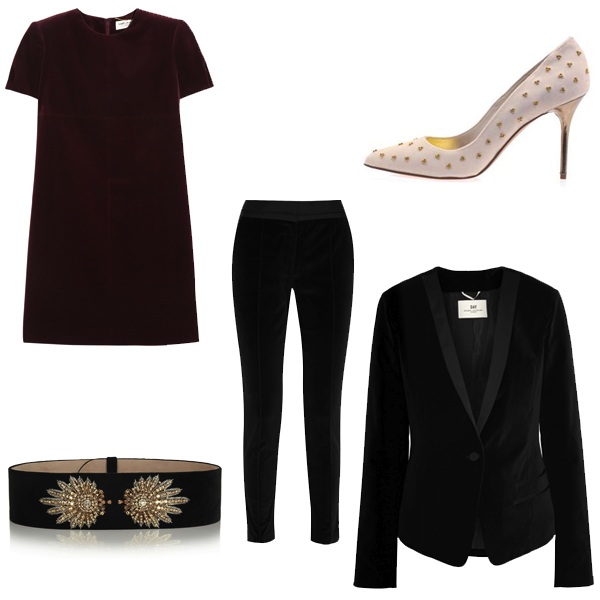 The holiday season is all about decadence – bright lights, rich colors, and of course, lush textures. The best way to celebrate in style is with some soft, chic velvet. The drama ends there, though, because the keys to pulling off the slinky fabric are muted colors, impeccable tailoring, and minimalism (Multiple pieces at once? A definite no!). To excite the on-trend look, add a dash of satin for contrast and polish, or gold beads and crystals for shine.
DAY Birger et Mikkelsen Velvet and Matte-Satin Tuxedo Jacket
: Keld Mikkelsen is known for masculine detailing, but with these ladylike lines, the style is kept from veering too far into smoking jacket territory. On NET-A-PORTER for $360.
Saint Laurent Velvet Mini Dress:
This dress is so simple that you can direct its styling in countless ways. Go girly with a pair of black tights or sophisticated with a black blazer and pumps. On NET-A-PORTER for $1,950.
Alexander McQueen Embellished Velvet Waist Belt:
I love velvet accessories – they give your look a mix of textures and in this case, a mix of shimmering crystals. On NET-A-PORTER for $995.
DAY Birger et Mikkelsen Velvet Skinny Pants:
This is an example of how tailoring makes velvet work. Flimsy, wide-legged pants might look cheap, yet these skinnies are the height of luxe. On NET-A-PORTER for $300.
Alexander McQueen Velvet Court Shoes:
What's more decadent than white velvet? Court shoes, meaning you stay indoors where you can keep these looking pristine! At Matches for $854.