When Valentino announced they were holding a fashion show in Shanghai, celebrating the opening of the largest boutique in Asia (8,500 square feet and second only to the flagship in Milano), I expected to view the Spring 2014 collection I saw in Paris. What could be better than an invitation to a Valentino fashion show? A Valentino show in Shanghai! I happily accepted, eager to return to the city where my grandmother grew up.
This marked the first time the house has shown outside of Paris, but it makes perfect sense. In my grandmother's era, Shanghai was touted as Asia's answer to Paris. Decades later, it's only befitting to once again crown her beloved city as the glittering jewel of Asia. Valentino agrees. Set against the backdrop of the space-aged Shanghai Pearl Tower (our answer to the Eiffel), Valentino flawlessly fused old-world heritage with modern-day technology; the show was also live-streamed to the world.
But rather than duplicate what's been on view in the digital world several times over, Maria Grazia Chiuri and Pierpaolo Piccioli, the Creative Directors of the House of Valentino, decided to honor the city of Shanghai with an entirely new collection designed exclusively for the event. The surprise of the evening? The entire collection was produced in various hues of Valentino rouge. From graphic silhouettes to romantic froth: rouge leopard, silks, satins, lace, chiffon, furs, pumps, clutches, capes, the looks all topped with thick headbands of red leather. Even the plexiglass runway was set in varying shades of red. Needless to say, it was a sight to behold.
Why an all-red collection? Iconic Valentino Rouge has long been the brand's DNA, and it's also a color associated to the Chinese culture – one that signifies good luck and prosperity. Interpreted in countless shades, both chromatically and metaphorically, the collection eliminates the aggressive formality often associated with the hue. From the floaty and weightless to the strong and severe, camouflage to rockstuds, this edgy fusion of elements the duo brought when they took over the house in 2008 has becomes as timeless as the original bows and lace motifs.
After the show, Maria Grazia and PierPaolo told me they are not merely paying homage to Chinese women: it's about the global woman. "We don't speak to trends; we think about style. Whether in the form of a studded shoe or a camo-print bag, women desire modern elements to surpass seasons and carry us through time. The Valentino women has many facets: she might wake up feeling "rock 'n' roll" and toss on her rockstuds; then return to "classic and beautiful" and end the day in a demure lace-collared dress. When you dress according to the way you feel at the moment, an element of effortlessness comes into play. Maria Grazia further explained, "When people ask me what I am going to wear to an event tomorrow I always say I have no idea how I will feel tomorrow. I'll decide at that time." And that is what we are celebrating.
After the show, another surprise: a performance by beautiful opera singer Elisa Balbo (see a video clip here). This is the most memorable runway show I have ever attended, and even more special as it was in my grandmother's hometown. How I wish she were here to celebrate with me. If you missed it, watch it here.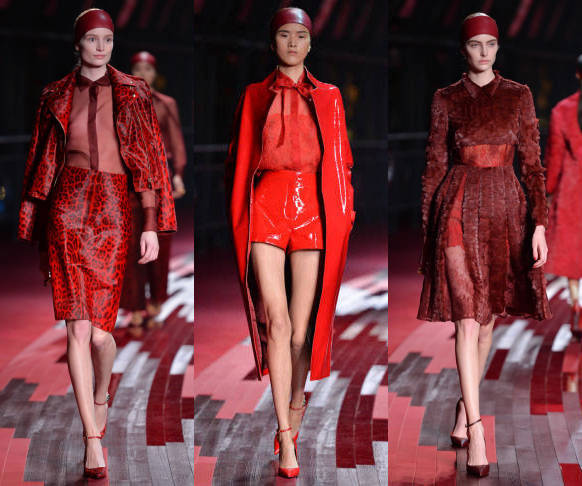 This post is also available in: Chinese (Simplified) Chinese (Traditional)