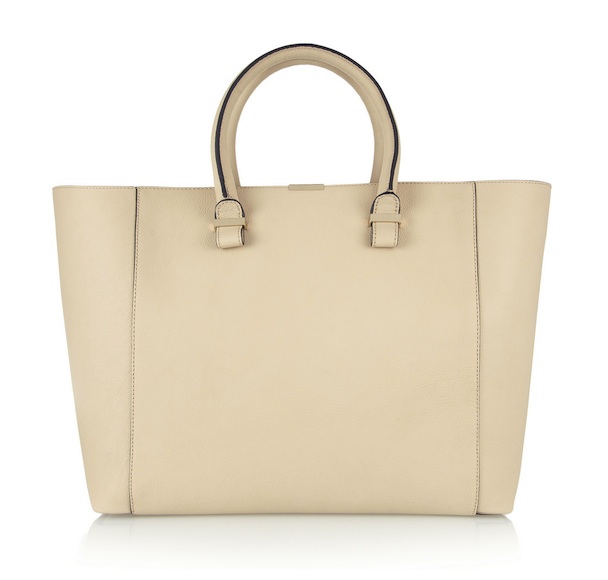 There is winter white, and then there's your winter wear-with-everything bag. Meet my new seasonal crush. Victoria Beckham inspired me to fully embrace light colors for the holidays with her supremely neutral, supremely pretty Liberty tote. Rounded handles and a collapsible gusset, courtesy of internal tabs, give it a particularly modern feel.
The pros: It's so creamy and fresh-looking, thanks to a calming combination of ecru and pale powder blue peeking out from the interior (it's only partial; the majority of the lining is a tan slub cotton-blend). It's roomy and welcomes you to throw everything in, from your MacBook to your spare gym clothes (though I dare you to carry this as a gym bag!). I needed an opened tote for the ease of throwing everything in for weekend road trips or even daily road trips when I'm out all day and have a change of shoes, cosmetic pouch, mail, etc. The cons: It's so creamy and fresh-looking! I'm almost afraid to throw all my stuff in and carry it like the daily tote it's meant to be. But think of it this way: our forefathers didn't fear death, so we shouldn't fear Liberty. Right?! On NET-A-PORTER for $1,350.
Pair with: Take this tote in a dark direction with similarly neutral two-tone booties. Rag & Bone's Kendall style, of black leather and brown suede, add interest without restricting your wardrobe. On Shopbop for $550.
This post is also available in: Chinese (Simplified) Chinese (Traditional)