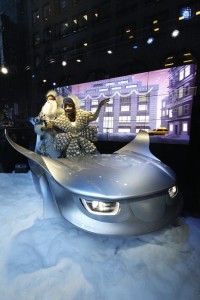 Have you seen this year's department store holiday windows? They're more high tech than ever before. Take a look on WWD.
All right, I'll give you the bad news first. SHEfinds found out that a hoodie from Jay-Z's holiday collection for Barneys will set you back 3K. The good news? All of the proceeds are going to The Shawn Carter Foundation.
Fashionista reports that Ann Demeulemeester is leaving her label.
Schiaparelli is relaunching! Any guesses who'll be heading up the 60 years dormant label? W Magazine has the answer.
The Cut has all the best sound bites from Karl Lagerfeld's master class at a Parisian university.
Olivia Wilde talks to Vogue about her shoppable online magazine.
According to Elle, the "stiletto lift" has become increasingly popular at the doctor's office. I think I'd rather take Tina's Birkenstocks, but you be the judge!
Photo Credit: WWD