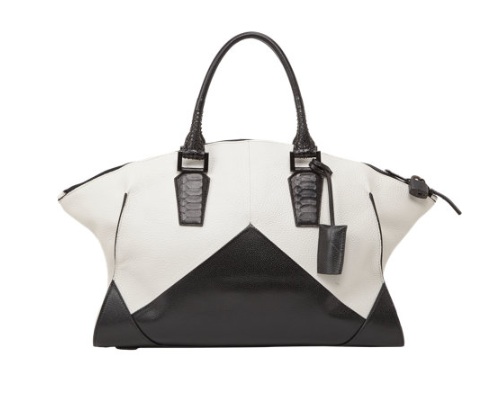 Architectural, futuristic, and sure to stand out in the crowd: Narciso Rodriguez wins points for originality with his new Trapezoid duffel. But this one isn't going to convert sales, at least not with me. Call it too much of a good thing. Or just call it too much! Elements of the bag are cool, like the python-trimmed handles and concept of an overtly strong take on black and white. But with all the elements combined, it looks like it's trying too hard.
Such an angular shape is sure to easily wear on your senses; it's heavy on the eyes and in your hands. The bold geometry is like an equation that doesn't quite add up, a bit too over-the-top to make a positive impression. A bag like this is desirable if you're going for a short-term purchase, but the price prohibits it from being so. At Barneys New York
for $2,495.
Pair with: If in-your-face angles and black-and-white-blocking is what you're after, dress this down with a pair of distressed jeans, like Rag & Bone/JEAN's ripped boyfriend style. At Bergdorf Goodman
for $220.