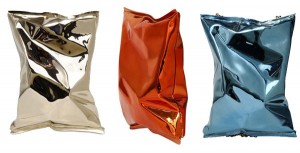 Anya Hindmarch is selling a bag of chips, only there are no chips…and it costs $1.5 K. Read Bag Snob's review of the metallic mess here.
The Cut interviews the latest Instagram sensation.
Pinch Provisions makes their popular Minimergency kit even tinier. See what Beauty Snob thinks of the slimmed down set.
Into the Gloss breaks down the anatomy of a holiday party look.
Now that Black Friday, Cyber Week, and Green Monday are over (did I miss any of them??), Couture Snob gets tips on how to shop smart everyday from a frugal style expert.
Being a magazine editor's assistant just got a little more fun! The Cut explains why.
Jewel Snob has found a few shiny things that you're going to want to add to your Christmas list.
Men aren't hard to shop for when you have WWW's gift guide for inspiration.
Shoe Snob declares Raf Simons king of the jungle.
Cindy Chao takes jewelry to a new level on the NYTimes.
Fashionista reports that Gwyneth Paltrow has teamed up with Michael Kors for a holiday collection. And you thought you couldn't love her any more (or hate her any more – it's always one or the other)!