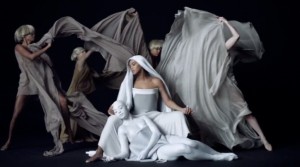 See the best looks from Beyoncé's 17 music videos on Vogue.
WWD's newsmaker of the year isn't a designer or supermodel, but the Bangladeshi apparel worker. See how their working conditions have changed in the last year.
Want to win 12 bags from Neiman Marcus? Rhetorical question – of course you do! Get the details on WWW…
Fashionista rounds up the seven most innovative holiday campaigns.
Mary Alice Stephenson plays Secret Santa to Bryan Boy on The Cut.
Elle wants these five trends to go away. What do you think?