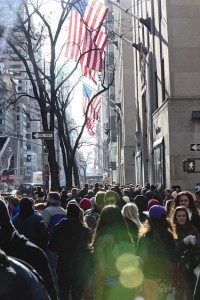 WWD reports that Black Friday sales were down, though with Thursday and Saturday, the overall tally is up from last year.
George Clooney gets artsy for W Magazine.
In five years, drones will airlift Amazon purchases right to your door! Learn more on Elle.
The Cut rounded up the seven strangest perfume ingredients.
Even with a boom in online shopping, droves of people still lined up on Thanksgiving Day for the best deals. Watch the craziest videos on Fashionista.
Photo Credit: WWD