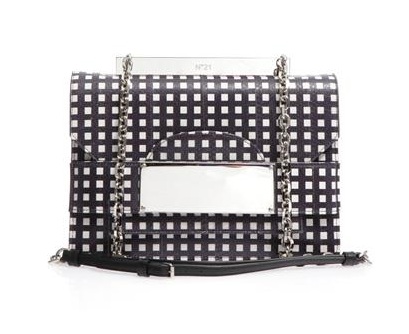 Are you of age? Meet No.21, Alessandro Dell'Acqua's new and first project after parting ways with his eponymous brand in 2010, and no, you don't have to show some ID.
Not only did the 50-year-old designer recently accept a job as the head of Rochas (look for the show in February), this personal brand is one to watch. Twenty-one is Alessandro's birthday and lucky number, and it seems appropriate for a collection that's young, fresh, and inspired by the woman who's a "fashionista but not fashion victim," according to him.
This spirited and preppy checked bag accompanies the new life-loving mood. At once adorable and sophisticated, he's taken a classic (the chain-strapped flap-front bag), worked some magic, and given it a twist that breathes new life into the style. Metallic hardware keeps the mood edgy, while in printed watersnake, it goes from fun to chic in a hot minute. No. 21 watersnake crossbody chain bag at MATCHESFASHION.COM for $1,667.
Pair with: Multiply 21 times two with their pleated lace mini skirt. In yellow lined with white cotton, this is a free and easy breed of polish. On NET-A-PORTER for $515.