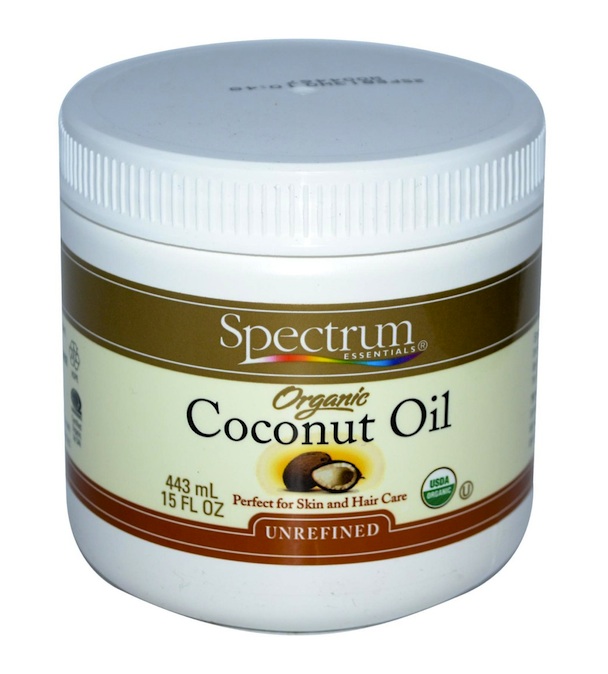 Despite the rise in popularity of coconut water people often have bad associations with coconuts because they think they're high cholesterol. It's actually one of the healthiest oils to cook with because it's high in immunity-boosting lauric acid and it can help with nutrient absorption, digestion, and more. You can read about some of the many benefits here. Coconut oil however can be used not only to help beautify you from the inside, but from the outside as well…and thank goodness because I don't like to cook!
One of the best uses is as a hair de-tangler/defrizzer because it's such a fatty acid rich oil. It's also incredibly moisturizing and you can literally use it anywhere from your hands and cuticles to your lips – you can even use it on your face to help lock in moisture (the fatty acids help seal it in). If you suffer from acne however or just simply have very oily skin, avoid putting it directly on your skin and instead opt for a moisturizer with coconut oil in its formulation.
Coconut oil is one of the best, inexpensive multi-duty products. There are so many more uses, especially if you are into DIY – you could use it as a scrub base or even to shave! I haven't tried using it as a makeup remover, but I've heard it works for that too. If you're interested in looking into using coconut oil I'd highly recommend going to Whole Foods if you happen to live near one. They have a great selection of ones made for the hair, skin, and body. Nutiva
($12.15) is my go-to because it's organic and chemical-free so it works as well for your skin as it does for cooking.