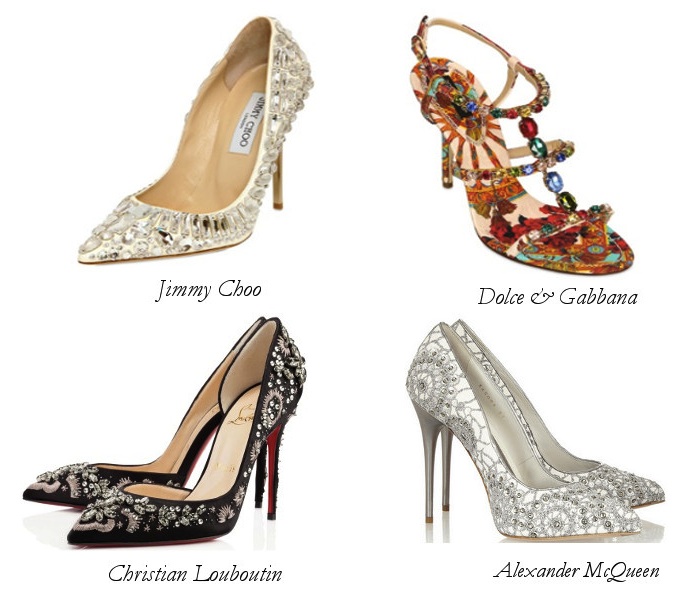 Spring is the time to come out of your shell (or more likely, your cocoon of coats), leaving your shyness behind, and there is nothing shy about these crystal-encrusted shoes. Certainly nothing comfortable either, but the girl who wears these couldn't care less about that. They're hefty in weight and in price. As a result, embellished heels are generally reserved for formal events, but dressing them down seems more fun, especially those bright Dolces! What would you wear yours with?
Jimmy Choo 120MM Rhinestones Tia Leather Pumps:
With the mirror leather heels and sprinkling of oversized rhinestones, these are like chic, mini disco balls. On Luisa via Roma for $3,250.
Dolce & Gabbana Skull Embellished Sandal:
Admirers don't even need to see the vibrant print decorating the soles of these sandals to know how fun they are. At Marissa Collections for $1,095.
Christian Louboutin Artifice Strauss: The mix of light crystals and embroidery set starkly against the black d'orsay is enough to inspire an entire series of outfits. At Christian Louboutin for $2,795.
Alexander McQueen Crystal-Embellished Embroidered Suede Pumps:
The elaborate detailing of McQueen never disappoints. These are heels fit for an ice queen, though I'll keep wearing them long after the ice melts. On NET-A-PORTER for $1,040.