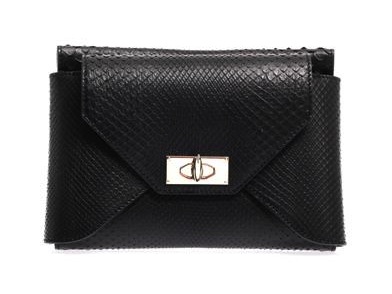 While I can appreciate a moment when Riccardo Tisci goes full-force and unapologetic on us, like with studded-out python or even wacked-out warrior imagery, at the end of the day, Givenchy is never better for me than when they keep it classic, sexy, and on the simple side of things.
Like with this exotic, origami-style envelope clutch. Not only does black python melded with a metal "shark-tooth" closure exude the house's quintessential moody attitude, it has an extra bit intrigue. The four-way folds hint that when you open it up, the entire bag will spread out. Not so.
I have a similar Givenchy clutch that gets a lot of use; its simplicity facilitates endless versatility, yet the details are striking enough to make it feel special. The same goes for this new one. No gamble here. This bet's a shoe-in. Givenchy python clutch at MATCHESFASHION.COM for $1,482.
Pair with: Take this for a night on the town with Jason Wu's sexed up-sandals. These leather and suede straps make for a pleasing type of bondage. On NET-A-PORTER for $1,195.