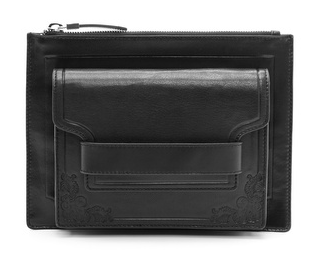 This is one of those uniquely subtle bags that could be the work of a new and still-unknown designer – or the creation of one of your favorite design house's chic little sister. Don't let the good looks of McQ Alexander McQueen's black leather clutch fool you: this one's all about function (but obviously not without style and edge).
The pouch clutch has evolved. As a current staple, it now must come complete with practical features and additional storage, and this one is as stealthy as it gets. A removable pouch is a brilliant detail for more pared-down occasions, and don't forget, it can also be used to help you stay organized inside a larger bag. McQ's stamped mini-pouch unsnaps with the greatest of ease, and sports an optional hand strap. While many snobs aren't into the slide-through strap, this one doesn't get in the way and looks great whichever way you choose to carry it. McQ Alexander McQueen detachable pocket clutch on Shopbop
for $570.
Pair with: Clutch this into high spring with Balenciaga's new patent-leather sandals, decked with fringe and golden fun. At MATCHESFASHION.COM for $1,345.