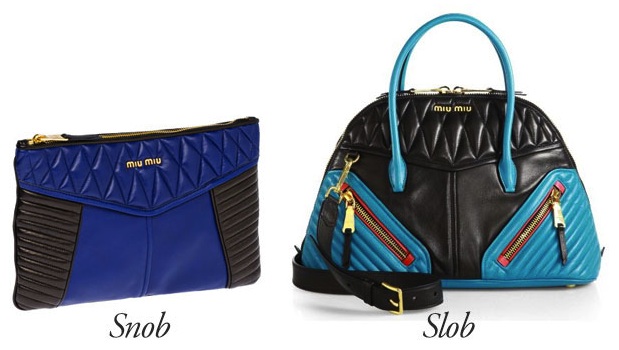 The concept of "less is more" has never been more obvious than on these Miu Miu biker bags. When it comes to quilting, padding, and topstitching, just a little is Snob…and a lot is a whole big mess of Slob.
Whether in subtle black and blue or brighter, starker cream and red, some contrasted quilting on the clutch simply lets it be known there's an element of moto-chic in play. And there's nothing wrong with that. It's actually pretty cute. The Bugatti dome satchel is another story entirely. With an explosion of clashing turquoise, black, and red, it's an assault on the senses.
The trouble doesn't end with an overambitious use of color. Those off-kilter outer pockets suggest a reprieve on the back of the bag. Instead, as if they weren't enough, you get treated to a pouch pocket that sticks out like a sore thumb. You know I'm all about convenient outer pockets, but such haphazard placement, cluttered design, and overworked details could be compared to a weary streetwalker: tired, cheap, and in-your-face.
Miu Miu continues to illicit even more confusion for me. There are pieces from this very same season that are gorgeously minimalistic. Like the Madras colorblock top handle: executed with ultimate restraint, it is serene, ladylike, and lust-worthy. Maybe Miu Miu will get their multiple personalities in check in time for next season. I just hope the one that wins is a lady, not a tramp.
Biker Clutch, $1,100 at Miu Miu; Biker Bugatti Dome Satchel, $2,250, and Madras Bi-Color Mini Top-Handle Bag
, $1,690, both at Saks Fifth Avenue.