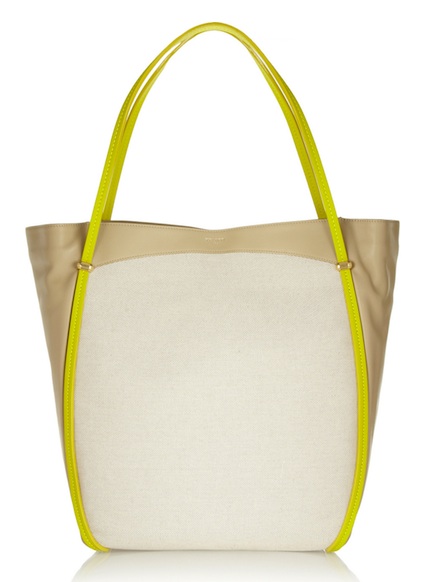 I'm so in love! I'm no ballerina, not even close, but this update of Nina Ricci's delicately impactful Ballet bag is making me want to dance. Or at least do a little twirl with it on my arm. While the original has a wide, east-west silhouette, this newly elongated iteration really speaks to me.
The shape is everything. Ever so slightly flared as it reaches the top, it's impossibly feminine. The contrast of clean yet textural canvas and luscious, buttery leather is beautiful, as is the palette of sandy naturals topped with lemon yellow. Inspired by the simple and roomy bags carried by ballet dancers, it's also functional, to boot. How often can you get this excited about a daily tote? Lovely and perfect from every angle, it exudes the essence of the female spirit in the best possible way. Nina Ricci Ballet bag on NET-A-PORTER for $1,500.
Pair with: Take the Ballet Cabas from lunch to the pool with Prism's seersucker swimsuit. With its detailed structure, this one-piece doubles as a slick summer bodysuit. At Barneys New York for $300.
This post is also available in: Chinese (Simplified) Chinese (Traditional)