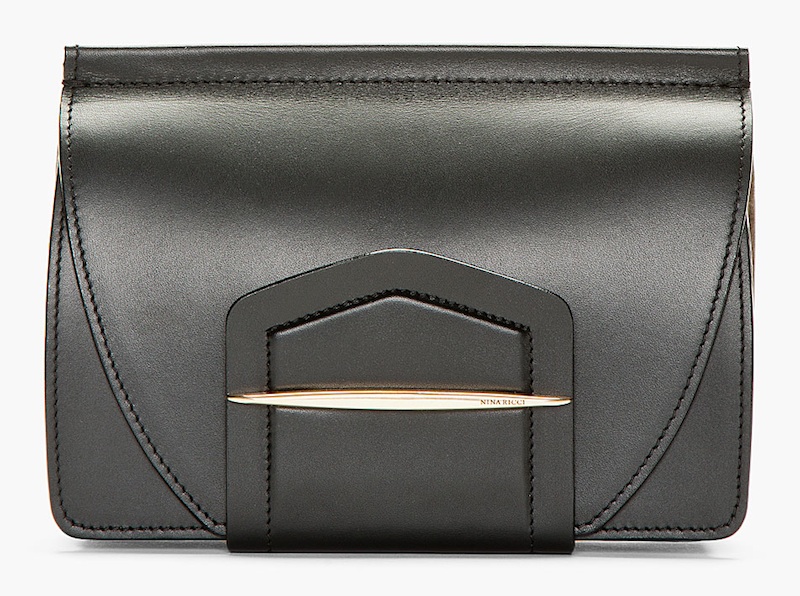 First, the newest Ballet tote stole my heart, and now this little winner: Nina Ricci is on fire. It was only last spring when I was having major doubts about (read, had damn near given up on) the brand, but what a difference a year makes.
This isn't just easy on the eye or solidly designed; this design amounts to a new and incredibly unique perspective on the clutch bag. A simple, neatly stitched seam along the the top becomes not just a fact of leather but a featured detail – brilliant. Then the oversized tab closure wraps all around the bottom, for a bold punch of punctuation that feels seriously sophisticated. With brown suede paneling, brushed black leather really pops. And so does Nina Ricci's knack for a chic creation. Nina Ricci Black Leather Wraparound Tab Clutch on Ssense
for $1,035.
Pair with: Take this clutch for a late-afternoon cocktail jaunt with MSGM's jacquard biker jacket. In cream and yellow floral, it oozes spring ease. Exclusively on NET-A-PORTER for $845.
This post is also available in: Chinese (Simplified) Chinese (Traditional)