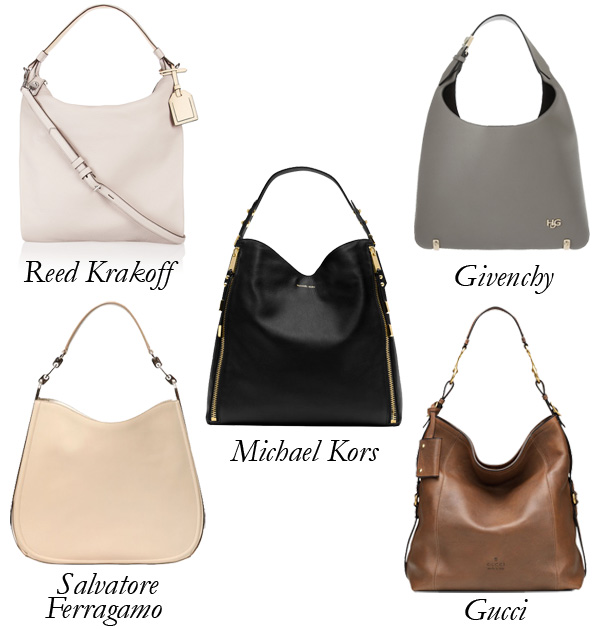 If you haven't noticed, I am not a hobo bag kind of girl. Giant, shapeless sacks just don't really appeal to me, and it's hard to find anything in them. But the new hobos have a bit of structure and a lot of functionality.
Lucky for me because while on ski vacation with my son this week, I realized I need a sack-like bag. None of my sophisticated little structured bags fit all the things I was required to carry for him while he skied. So I found a giant nylon green food-delivery tote (lined in foil to keep things hot) and used that all week long. True story. I refused to buy a new bag because the choices in Vail were lacking, to say the least. No offense to Colorado style, but strange offerings up in the mountains.
When using an oversized, slouchy bag, the key is to keep your outfit chic and streamlined. Like with stretch-leather leggings ($920) and a breezy, white top ($210) a la Helmut Lang, along with Joseph's quintessential black blazer ($725) and Lanvin's angular suede ankle boots ($690, from $1,150). You don't want to actually look like a hobo. Do not try to channel the Olsen twins unless you are actually an Olsen. All pair-with pieces available on NET-A-PORTER.
1. Reed Krakoff Standard Hobo Leather Shoulder Bag: The softest shade of gray and an extra strap for a relaxed length makes this a no-brainer. On NET-A-PORTER for $1,250.
2. Givenchy Small House de Givenchy Hobo Bag: I'm tempted by this slim and modern number in a great neutral. Especially now that it's on sale! On NET-A-PORTER for $1,088.50 (from $1,555).
3. Michael Kors Miranda Zip Shoulder Bag:
 A hint of slouch benefits from a dose of hardware. These are zippers done the right way. At Neiman Marcus for $995.
4. Salvatore Ferragamo Kittle Brushed-Leather Hobo Shoulder Bag: There is no one more delighted than yours truly to discover a non-convulsion-inducing Ferragamo bag. The Kittle is so chic and elegant! On Luisa via Roma for $2,459.
5. Gucci Harness Leather Hobo Bag: Classic and grown-up, this is Gucci at their most timeless. Available for pre-order at Neiman Marcus for $1,790.