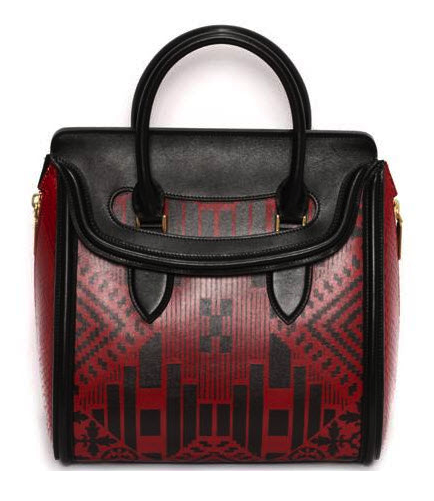 At 40 years old, Kate Moss still is the world's reigning queen of style for me. Forget pubescent girls, of-the-moment amateurs, and so-called street style stars…What exactly does that term mean, anyway? Getting dressed up just to roam the streets during Fashion Week with no purpose other than the hope of getting your photo snapped?! Many of these self-proclaimed stars don't even have invitations to actual shows! Enough ranting; let's discuss real influence. Like Kate Moss.
Put Ms. Moss in anything and myself, along with 99% of luxury buyers, will stop and stare. Put her in McQueen and we will all bite. Luckily, Sarah Burton and her team know that fact, and they've enlisted her to star in the Alexander McQueen Spring/Summer 2014 campaign. Shot by Steven Meisel (you can instantly tell by the smoky, Caravaggio-esque lighting, sensual posturing, and heady combination of flesh and danger), it's striking on all levels. Naturally thanks to Moss' always-impressive bone structure, but it's also thanks to the power of the collection.
Inspired by the progressive art movements of the 20th century, Moss has morphed into a sizzling-hot warrior woman, one-part primitive goddess and one-part Roaring Twenties party girl. It's a complicated role she plays so well. And the latest incarnation of the Heroine bag, in a decadent black and red weave-style patchwork that references Aztec art and tribal motifs, is a scene-stealer. Much like Kate, it's timelessly exotic. Now that it's been seen in her hands, it's a must-have for the season.
The red and black patchwork Heroine will be available this spring at Alexander McQueen
for $2,995.