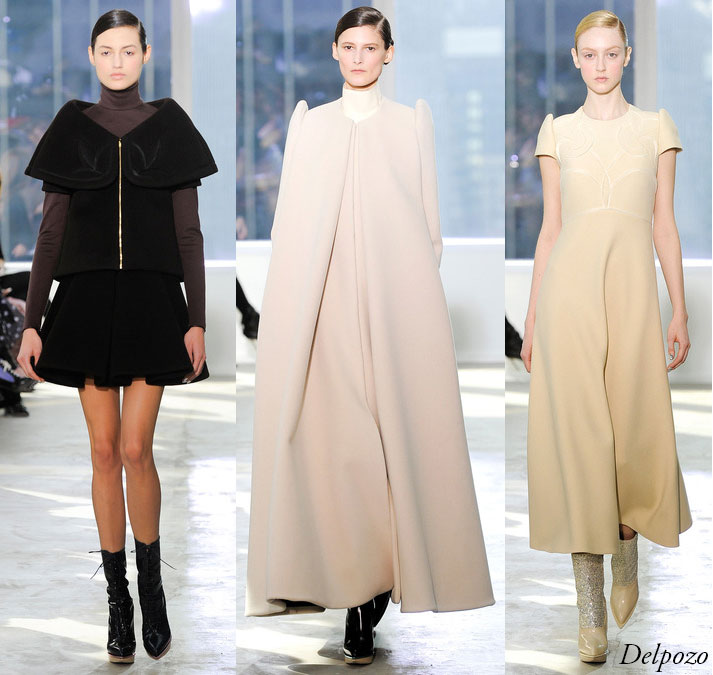 Whimsy. Enchantment. Ethereality. When it comes to the most elusive of qualities – and especially when it comes to the Fall 2014 collections – Delpozo makes achieving them look effortless. They remind us it's in the details, and theirs are intricate. As a matter of fact, couture-level details are what they've come to be known for, and this season does not disappoint.
On the contrary. Italian artist Duilio Barnabé and his abstract take on portraiture served as inspiration, and his way of applying organic geometry to create human forms is sharply in play. Creative Director Josep Font plays with shapes of all sorts, creating long, fluid, and attractively ample silhouettes. Clusters of floral appliqués douse sheer, long-sleeved dresses and light-as-air sweaters, while slits, folds, and smatterings of sequins appear in equal measures.
Elements of nature, some abstract and some literal, pose a recurring theme, and the knits are absolutely mind-boggling. The way the textures are charted, each one is a work of art in itself. And their vivid, colorful, hyper-optimistic take on plaid is not to be beaten.
Speaking of color, Delpozo is clearly nourishing another trademark: they are always so good at their high-contrast combinations. Mixing the vibrant, bold, and saturated with soft pastels just adds to the sense of out-of-this-world wonder. This collection is good news for Delpozo fans hoping for the brand to be the next big thing. Indeed, there's a sense of magic, the mystical "it" factor that so many try to capture, and Font has successfully entered this most coveted space.