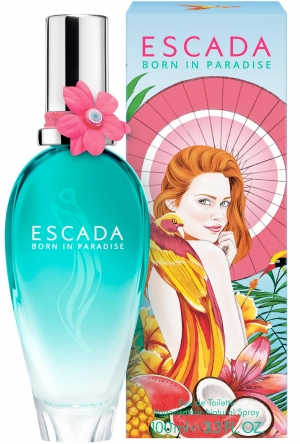 Escada's limited edition scents have developed a cult following and their latest, Born in Paradise
, will no doubt serve to further that tradition. Why? Because it's inspired by the piña colada. I feel like everyone has a deep relationship when it comes to the piña colada. I can totally remember the first time I had one – I was eight, and it was in Hawaii. It was love at first sip. I came back from that trip, and my family and I went straight to a Chinese restaurant for dinner. I still remember asking the waiter for a piña colada (with no luck!) because I was so hooked.
Since then I've discovered what a calorie is and try to avoid frozen drinks, but it's hard to deny the appeal of coconut and pineapple, and those served as the inspiration for Escada's perfumers. Of course no one wants to smell like they just bathed in a frozen alcoholic drink, so the brand did a fantastic job at taking their inspiration and balancing it out with notes like musk and sandalwood (incidentally my two favorites). There are also watermelon, green apple, and guava notes so it's definitely a fruity scent despite having woody notes at the base. I should also add that it's a very sweet scent…it reminds me of Hermès' Ambre Narguile for those that are familiar with that one, and it gets sweeter – but less fruity and more woody – as it dries. I would definitely recommend heading to your beauty counter (before the limited edition scent sells out!). It's a well priced fragrance, and even though it appears very summery with the bottle, inspiration, and name, it's a perfume that could easily work year-round. Escada Born in Paradise at Macy's
for $75.