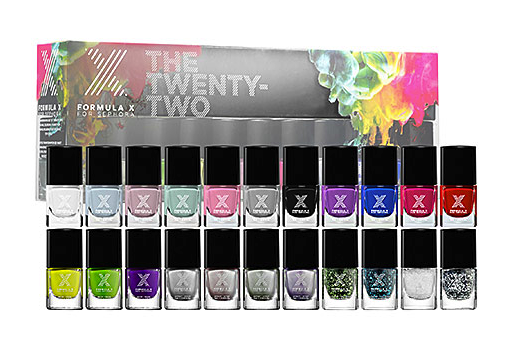 Forget every other polish brand and head straight to Sephora to pick up a Formula X polish. Or while you're at it, might as well get their The Twenty Two
, which gives you a whopping 22 polishes for $55 – a $103 value. I was sent samples weeks (months?) ago, but didn't actually try any of them till three weeks ago because I've been uniquely obsessed with a dark red OPI x Sephora shade. When I find something I like it's hard for me to want to experiment!
That said, I was in the mood for a change, so I gave myself a DIY mani using one of their fine pink glitter shades. I was in awe that a full week later my mani, while not perfect, was more than still wearable. I went 10 days before removing my polish! Better yet, unlike most glittery polishes, this one wasn't difficult to remove. I know it's not great, but I actually took off all the polish in the shower…I was delaying coming out and just gently scratched and peeled all of the polish off. I played with a few more colors before writing this post and all of them are so saturated that you could easily get away with a single coat. There are nearly 100 shades to choose from
!