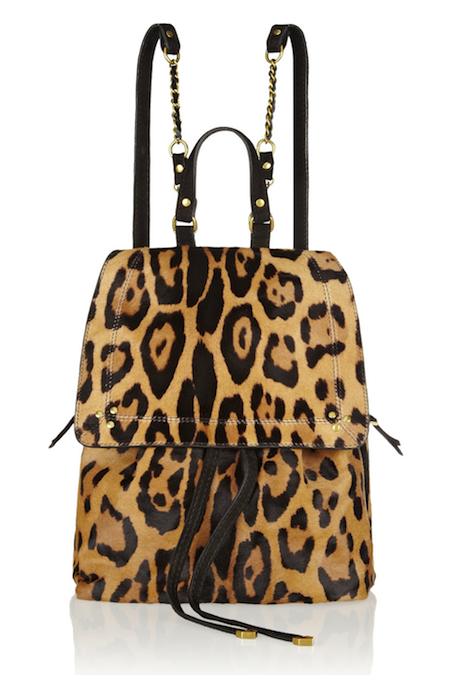 From the low to the high, you absolutely must get a backpack if you don't already have one. But there's one major rule that comes with the territory: you must steer clear of looking like a schoolgirl (unless, of course, you're trying to look like a schoolgirl, but that's a story for a different day).
Ensure you don't end up in knee socks and pigtails, and opt for this Jérôme Dreyfuss satchel-esque backpack. With leopard-print pony hair, it's pure city-chic. Skinny leather straps mixed up with chain details evoke a sense of luxury. Plus, the straps are removable so you can wear it like a satchel, with the handle resting in the crook of your arm. A great hidden back zip allows you to access the interior without going through the flap. With an ultimate emphasis on the awesome print, this is no-brainer cool mixed with easy function. Jérôme Dreyfuss backpack on NET-A-PORTER
for $1,140.
Pair with: Go gutsy and playful by wearing this backpack with Miu Miu's covetably cute cropped peasant top. A music-note print on bubblegum pink silk-twill is a game-changer for your sunny-afternoon repertoire. On My Theresa
for $835.