When it comes to Marchesa, you are accustomed to expecting certain things that would never cross your mind when sitting down to another show. Things like sweet ethereality, unapologetic femininity, and the all-out appreciation of beauty in the truest, purest sense of the word. This isn't the common beauty of fabulous street style; it's the stuff of which romantic Impressionist paintings, images of classic literature's greatest heroines, and your dress-up fantasies are made. Oh, and most recently, sequined embroidery that translates to gold leaf worthy of a museum's permanent collection and satin that drapes, drips, and falls like liquid gold out of a medieval fairy tale (Okay, so I'm getting a little verbose here. But nothing gets a girl to gush on like a Marchesa dress!).
These are clothes that not only inspire but allow you to dream. With their editorial and red carpet-ready creations, Keren Craig and Georgina Chapman have proven that beauty can be a daily occurrence. Yes, daily. And don't think it doesn't come with an accessible yet sharply edgy twist. Dare I say the Marchesa girl has gone a little bad?
You can take the girls out of London, but you'll never take the London attitude out of the girls. Their Fall 2014 assortment makes for a most wearable collection, one that projected a bit of punk edge, thanks to extreme asymmetry and sexy reveals (courtesy of sheer fishnet panels, insanely cool lace-up stockings, and a bold emphasis on the bare décolletage).
A deconstructed kilt gown of ink-black Chantilly lace, a pony-hair skirt with bird laser-cut embroidery, and a fishnet-embellished lace top, sheer to crazy-sexy effects, with a great, big burst of an orange ostrich skirt (FAVORITE!): this is a new way to view glamour. Darkly pretty, these dresses and gowns aren't for the innocent princess; instead, they would look best on a seductress, femme fatale, and even a vixenish villain. Being bad has never looked so good.
Bonus: it was great seeing my lovely friend, Katie Holmes. I would love to see her shine in one of these devilishly angelic pieces…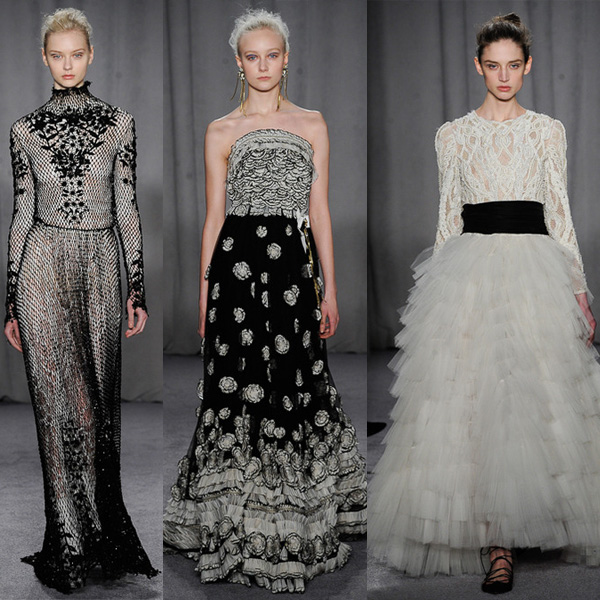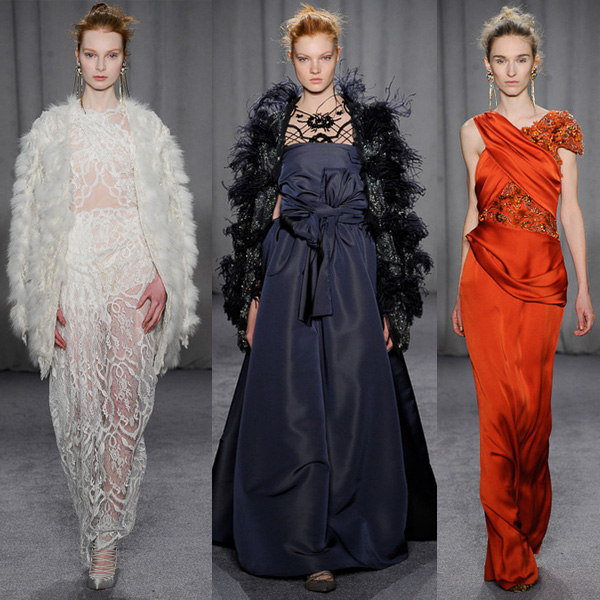 Congrats on a stellar collection, Patsy!