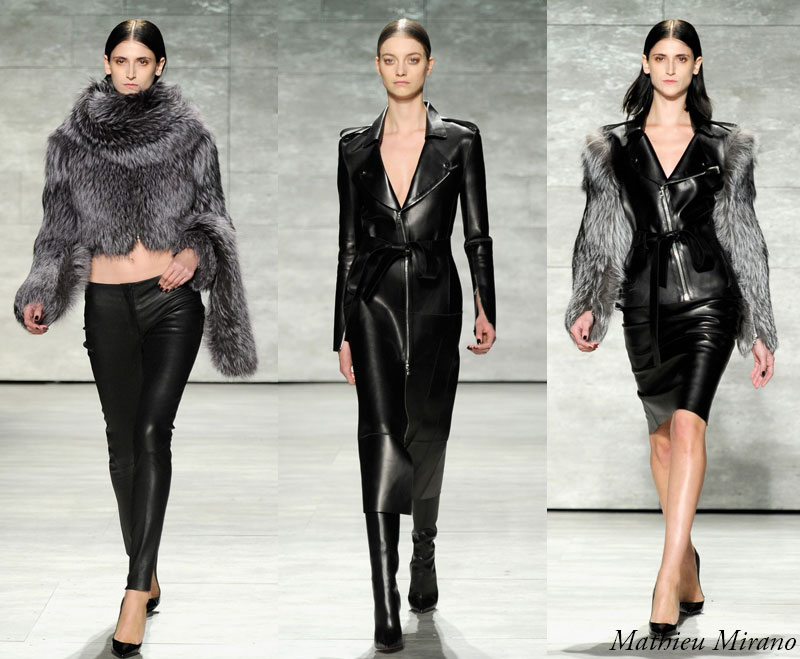 This season Mathieu Mirano had a proper sit-down runway show. I do like presentations because you get up-close looks at his intricate details, which are what he's good at. But the show was set up with serpentine rows so everyone had great seats. I'm thankful to sit, always, and the relaxed setting allowed for full inundation of just how spectacular minimalism can be.
For Fall '14 it was back to basics for Mathieu. Embellishments and trim were of this world (remember his meteorite collection?), yet in his deft hands, zippers and sequins had an otherworldly feel. Futuristic couture could be seen in his sculpted leather pieces and zippers placed on the biceps of a long-sleeve dress – glimpses of fantasy without getting costume-y. Then the furs came out, and I forgot about all the rest. The stoles literally stole the show. Wrapped around the neck, then draped down into a clean silhouette. Their simplicity was precisely what made them special.
A clean and stark collection of mostly black and white (there were a couple of midnight and lilac looks) made for a cohesive showing, though I wanted a bit more. But his shows are always tightly edited and exact.