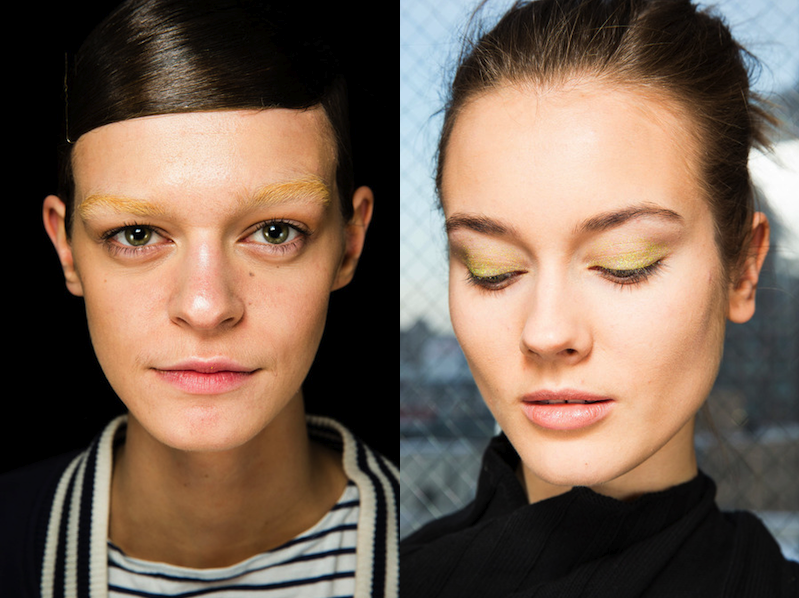 Alexander Wang: Was the designer inspired by Miley's new W cover? Turns out he wasn't, but the no-eyebrow look reigned supreme either way. The focus was on "pure beauty" – eyebrows were completely painted over and hair was deeply side-swept. Though it was a great canvas for the clothes, I really hope this look doesn't take off…I recently darkened my brows and it may have been the best beauty decision I've ever made.
Altuzarra: Leave it Tom Pecheux to create a golden-green glittery eye and have it look anything but tacky. It was paired with a clean face, muted lips, groomed brows, and pulled-back hair.
Hervé Léger: A tightly pulled back ponytail with streaks of blue, orange, and pink; a clean face; high-shine lips; and a dramatic winged eye complemented each of this season's bandage dresses. The color seemed unnecessary to me and made the whole hair look at bit Halloween-like – thoughts??
Prabal Gurung: Hair was parted in the middle and blown out pencil straight, while makeup was very muted — clean skin and a neutral lip. Classic beauty…always my personal favorite.
Images: style.com and wwd.com