Spring combs, a trio of eyeliners, a messy chignon, and more notable looks from NYFW beauty…
Rag & Bone: It was all about the eye at this season's Rag & Bone show. Gucci Westman used no less than three eyeliners to create the look and kept everything else clean. When I spoke to her she told me she loved this look because she thinks it reflects real life well – most women don't have time to focus on more than one thing.
Helmut Lang: The spring comb is back! It was used to create the austere textured ponytail for this season's hair look, while the beauty look, created by NARS' Hannah Murray, featured a rich burgundy eye. NARS Deborah Audacious Lipstick (launching in the fall) was used in place of shadow and then muted with a little bit of powder.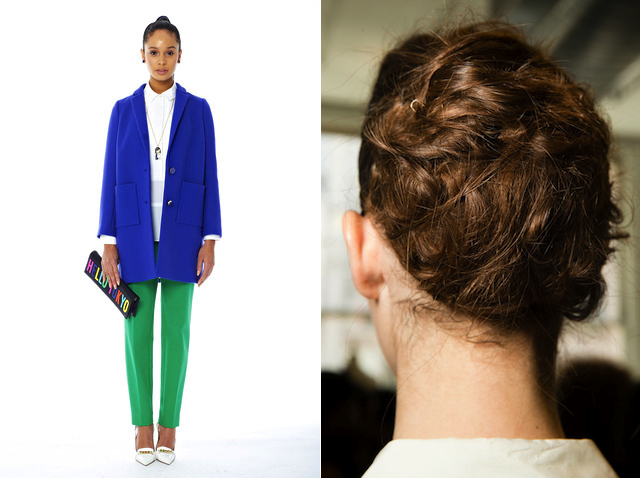 Kate Spade: You can't help but smile when you're at Kate Spade. This season the brand went for uptown chic according to Deborah Lippmann who created the nail look using a sheer polish called Naked. Hair was pulled into a tight ponytail and wrapped with a leather band, while the makeup was similarly kept clean and simple to keep the focus on the playful fashions.
Jason Wu: For the first time Jason Wu went for a slightly messy look (a very calculated and meticulous messy of course…) – and it certainly wasn't fun for the models to undo it as each of them had about 50 hair pins in their hair!
Images: style.com